News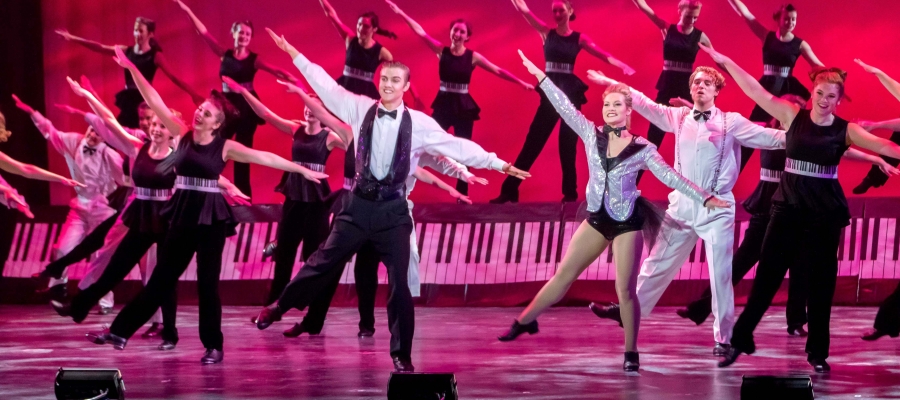 North America - Chroma-Q Color Force 12 multi-purpose LED fixtures were recently specified by lighting sales and production company, E2i Design, for its seasonal 'White Christmas' show at Michigan's Brighton High School.
E2i Design's Josh Holowicki passionately supports the school's theater in a number of ways - as chairman of the board of directors, as volunteer technical director and scenic designer, and as producer. As the technical director, he's responsible for all audio, video and lighting.
Irving Berlin's White Christmas is a classic holiday show, based on the famous movie. It follows an army private and captain who were stationed in Europe during WW2 in 1944. They are performers and entertainers who do their best to keep up the spirits of the 151st division during the holidays. The show ran on the first two weekends of December 2015 at the school's 900-capacity Brighton Center for Performing Arts, selling out five of the seven shows.
"We used 55 Color Force 12™ units for this production - 36 flown for overhead stage lighting, including 11 to light backdrop cycs - plus 9 for foot lighting and shin busters, and 10 over the audience for house color wash," explains Josh. "The Color Force family is a fantastic product line. The fixtures specifically work best for my designs - with their amazing rich color mixing that is extremely versatile, I can add bold color or subtle warm tones when necessary."
The Color Force 12 model provides power across the spectrum, from deep cold blues to red hot lava looks all from a single fixture. At only 335mm / 1ft long, the unit is ideal for floor, wall or truss mounting. It also provides a massive output of 2,400 lumens, easily washing up to 8m / 26ft with smooth, theatrical grade dimming.
"The fixtures also offer extremely quiet operation – almost silent – which is great when using a large number of them," Josh continues.
Josh is a long-time user of Color Force products. In the summer of 2015, he also used the CF12s on a production of 'Nice Work If You Can Get It' at the same theater. At the time, he redesigned the entire lighting system in the theater, investing in 36 Color Force 12 units for the house rig.
"We use them for cyc lighting as well as general stage washes and without a doubt they are a spectacular fixture," he said.
The Color Force range of creative lighting tools has been utilised on a wide range of high-profile shows and events, including concert tours by Paloma Faith and The Tragically Hip; and theatre shows including Broadway's recent revival of The King and I, as well as various productions by Boston University, and the National Theatre, Royal Shakespeare Company, and Welsh National Opera in the UK.
The Chroma-Q® range of premium performance solutions is designed and built to exacting standards in North America, and has been adopted by many leading designers and specifiers for some of today's most demanding and prestigious lighting applications. As a result of this, the brand has received awards from several industry associations.
Get your demonstration of the Chroma-Q LED range at the following upcoming international tradeshows in January & February:
PLASA Focus Glasgow - Glasgow, UK, 20th - 21st January
Stand B1 (Dealer, A.C. Entertainment Technologies)
BSC Expo - Battersea, London, UK, 29th - 30th January
Stand 213, (Dealer, A.C. Entertainment Technologies)
Integrated Systems Europe - Amsterdam RAI, NL, 9th - 12th February
Stand 9-F104 (Dealer, A.C. Entertainment Technologies)
BVE 2016 - Excel, London, UK, 23rd - 25th February
Stand M45 (Dealer, A.C. Entertainment Technologies)
Alternatively, to arrange a demo or for details of the nearest Chroma-Q open house events, contact:
(North American Sales Enquiries)
A.C. Lighting Inc.
Tel: +1 416 255 9494
northamerica@aclighting.com
(International Sales Enquiries)
A.C. Entertainment Technologies Ltd.
Tel: +44 (0)1494 446000
international.sales@ac-et.com
Or for more information and to find your nearest reseller, visit www.chroma-q.com.
We're now social. Follow us on Facebook - www.facebook.com/chromaq.lighting - for the latest Chroma-Q breaking news, user application stories, competitions & other fun stuff.
---
Chroma-Q and all associated product names are recognized trademarks, for more information visit www.chroma-q.com/trademarks. The rights and ownership of all trademarks are recognized. Whilst every effort has been made to ensure that the information is correct, Chroma-Q accepts no liability for errors or omissions. Technical specifications and data are provided for guidance only. Because we constantly aim to improve our products, we reserve the right to amend or alter at any time and without prior notice, the specifications of any product. E&OE.
Recent News