News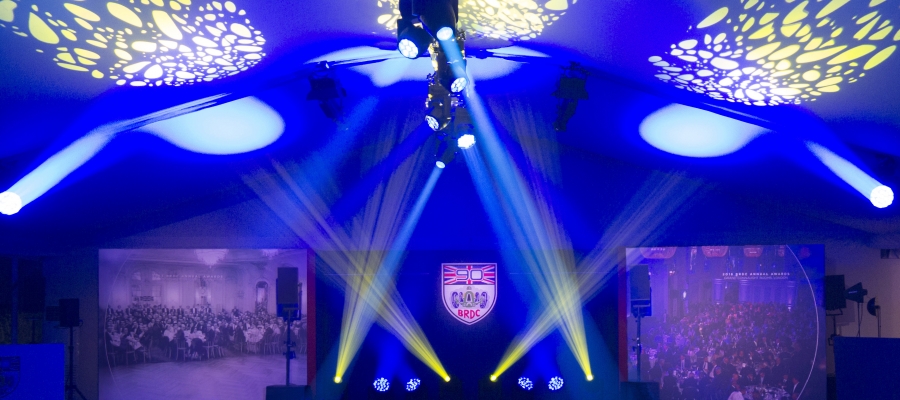 UK - A.C. Entertainment Technologies (AC-ET) Ltd. have showcased a wide range of the innovative lighting, control and networking products they supply by producing the entire lighting design for the British Racing Drivers' Club's (BRDC) glamorous annual British Grand Prix Party at Silverstone Circuit, on Saturday 15th July.
Staged every year within the grounds of the BRDC Farm as part of the Formula 1® Rolex British Grand Prix weekend, the legendary occasion attracts high-profile Members and personalities from the world of motorsport.
This year's event marked a decade for AC-ET's Patronage of the British Racing Drivers' Club's exclusive 'Rising Stars' Programme, and as supplier of the creative lighting design for the British Grand Prix Party.
Working closely again with the BRDC to create the lighting theme for this year's event, AC-ET supplied the complete indoor and outdoor effects lighting systems incorporating nearly 150 fixtures. This included some of the very latest static LED technologies from Chroma-Q®.The project was overseen by AC-ET's in-house production manager, Andy Walne Smith.
For the event's two-storey VIP hospitality marquee, separate daytime and evening lighting schemes were needed for the downstairs dining and lounge areas, and the upstairs bar and DJ / live band entertainment areas.
Chroma-Q's award-winning Space Force™ LED soft lights provided general ambient illumination during the day, including for the downstairs food and coffee serving areas, and the bars on each floor. In addition, the brand's multi award-winning Color Force II™ colour-mixing LED washlights provided static lighting during the day and coloured effects during the evening.
Next to the marquee, additional Chroma-Q Space Force fixtures provided powerful soft lighting to illuminate a covered display featuring legendary Classic Team Lotus driver Jim Clark's world championship winning cars.
In a separate outdoor area within the garden, Chroma-Q's IP65-rated Studio Force Compact™ washlights and Color One 100™ colour-mixing PARs provided punchy uplighting of BMW sponsor cars, branded graphics and an adjacent stage used for driver interviews.
Jands Vista systems provided powerful control of the dynamic lighting schemes inside and outside the marquee. Inside, with space at a premium, AC-ET specified the compact footprint Vista S1 console and two M1 wings, connected to a PC and two touchscreens. A Vista PC system running on a laptop in a storage room within the garden was used to control the outdoor lighting.
Both systems ran over ArtNet, with Luminex and Chroma-Q data distribution. The large quantity of power, data and hybrid cabling needed for the event was provided entirely by AC-ET's in-house Tourflex® Cabling bespoke cable assembly service.
BRDC Events Manager, Hannah Thompson commented: "With a host of Formula One drivers present, alongside over three hundred BRDC Members and guests, the pressure was on to deliver a first-class event. The result was sensational and the feedback confirmed that, once again, A.C. Entertainment Technologies had pulled out all the stops. The company delivered an exceptional lighting display."
Get your demonstration of these and other cutting-edge entertainment technology solutions, on the AC-ET stand at PLASA 2017 (stand E30).
Alternatively, contact the company now to discuss how AC-ET can help you achieve your aspirations, on +44 (0)1494 446000 / sales@ac-et.com, or visit www.ac-et.com.
Keep up to date with the latest AC-ET news via their social network pages:
www.twitter.com/acenttech
www.facebook.com/acentertainmenttechnologies
---
Chroma-Q and all associated product names are recognized trademarks, for more information visit www.chroma-q.com/trademarks. The rights and ownership of all trademarks are recognized. Whilst every effort has been made to ensure that the information is correct, Chroma-Q accepts no liability for errors or omissions. Technical specifications and data are provided for guidance only. Because we constantly aim to improve our products, we reserve the right to amend or alter at any time and without prior notice, the specifications of any product. E&OE.
Recent News