News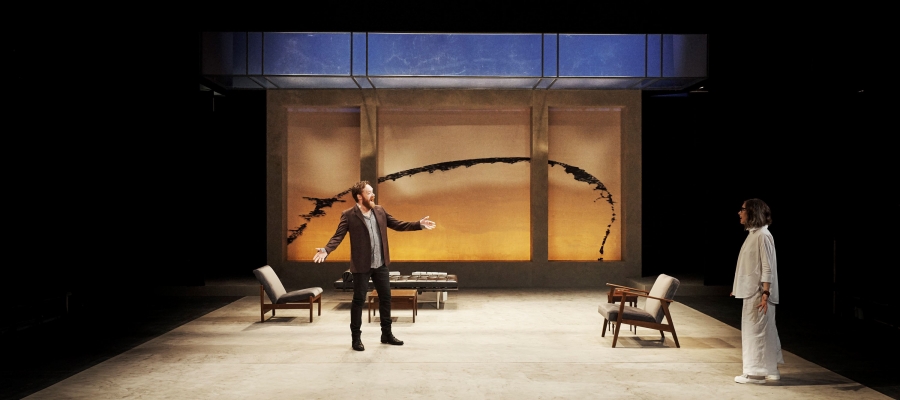 ROI - Galway-based stage lighting equipment supplier, Cue One Ireland has invested in the multi award-winning Chroma-Q Color Force II luminaire - for servicing its theatrical and corporate events clients.
Cue One Ireland wanted to replace its existing battens and dimmable fluorescents stock with a versatile all-in-one fixture that accurately delivered subtle pastels for lighting sets & backdrops in clients' corporate colours at events, as well as providing punchy, bold colours for lighting cycloramas during theatrical shows.
After looking at various colour-mixing battens on the market, Cue One Ireland's Managing Director, Kieran Cooney felt there was only one choice that would meet the company's needs and placed an order for eight Color Force II 48™ battens.
He commented: "We chose the Color Force II for the quality of light and colours produced, particularly its ability to achieve difficult pastels. The end results stood out against a number of other cycs and battens that we looked at."
Since investing in the fixtures, Cue One Ireland has supplied them for a number of high-profile theatrical and corporate events.
Kieran commented: "The Color Force II fixtures have reduced the stress and anxiety in achieving the lighting results our clients desire. The feedback from them has been fantastic. Many designers are complementing the wide range of colours that can be achieved with the fixture, as most other battens on the market are very "rock 'n' roll" with their colour palette. The fixtures have even had to be be dimmed in some cases, as sometimes they are too bright!"
The Color Force II fixtures were supplied to Cue One Ireland by Chroma-Q dealer, A.C. Entertainment Technologies Ltd (AC-ET).
Kieran continues: "The service I have received from A.C. has been top notch as always. We're really happy with their recommendation of the Color Force II, as there's been a steady uptake of hire jobs using them since they went into our stock a few months ago and clients love them. If the current level of demand continues, we may well need to invest in some more in the future!"
The Color Force IIs have recently been used on Nora, a Corn Exchange Theatre production by Belinda McKeon in collaboration with Annie Ryan.
Lighting designer: Sarah Jane Shiels,
Set Designer : Paul O Mahony.
Designed to deliver a premium performance for theatrical and rock 'n' roll events through to corporate and architectural applications, the versatile Chroma-Q Color Force II cyc, wash and effects light delivers 50% more output than its predecessor and superior colour blending. Other premium features include superior homogenised RGBA optics producing even higher quality saturates and pastels, and a purer white – all from a single source - and theatrical grade dimming.
See the Chroma-Q range at on the AC-ET stand at PLASA Focus Glasgow on 17th / 18th January 2018.
Alternatively, to arrange your personal demonstration, contact:
(International Sales Enquiries)
A.C. Entertainment Technologies Ltd.
www.ac-et.com
Tel: +44 (0)1494 446000
international.sales@ac-et.com
(North American Sales Enquiries)
A.C. Lighting Inc.
www.aclighting.com
Tel: +1 416 255 9494
northamerica@aclighting.com
Or for more information about Chroma-Q, visit www.chroma-q.com.
Keep up to date with the latest Chroma-Q news via their social network pages:
www.twitter.com/chromaqlighting
www.facebook.com/chromaq.lighting
Color Force II patents pending.
---
Chroma-Q and all associated product names are recognized trademarks, for more information visit www.chroma-q.com/trademarks. The rights and ownership of all trademarks are recognized. Whilst every effort has been made to ensure that the information is correct, Chroma-Q accepts no liability for errors or omissions. Technical specifications and data are provided for guidance only. Because we constantly aim to improve our products, we reserve the right to amend or alter at any time and without prior notice, the specifications of any product. E&OE.
Recent News