News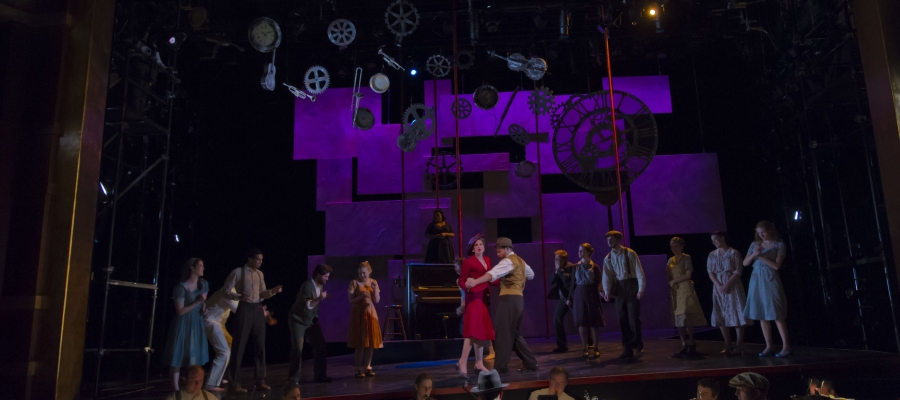 The Chroma-Q Color One 100 LED Par and Color Force 72 LED battens were recently used to provide outstanding color and punch for Boston University's production of The Human Comedy at the city's Virginia Wimberly Theatre.
With music by Galt MacDermot (best known for Broadway's score of Hair the musical) and based on William Saroyan's novel of the same name, The Human Comedy is a pop folk opera and coming-of-age tale about small-town life in World War II era California. It was presented by Boston University College of Fine Arts School of Theatre and staged at the 360-seat new state-of-the-art proscenium Virginia Wimberly Theatre.
Boston University lighting designer Brandon Bagwell, who is being tutored on the University's Master of Fine Arts Lighting Design program by Associate Professor (Lighting Design), Mark Stanley - the resident lighting designer for New York City Ballet and former resident LD at New York City Opera, used the Color One 100™ LED par to sidelight the set, which included hanging gears, clocks and musical instruments.
"From the moment I turned on the Color One 100 for the first time, I was in awe", says Brandon. "Their lumen output was on par if not exceeding that of, the mostly tungsten rig. This was even true in the most saturated color produced by the unit. The color engine in the Color One 100 is outstanding - it presents a designer with such a broad spectrum of color and value that the combinations are endless. The spectrum even included subtle and elegant pastels which were a beautiful contrast to the vibrant, saturated colors the Chroma-Q line is so well-known for."
The Color One 100 features an innovative fully homogenized beam virtually eliminating the color separation and shadows synonymous with LED lighting - delivering above Par performance from ONE source.
The unit's optical design provides a smooth, uniform and defined 20° beam. This makes it ideal for use as a front and backlight with clean shadows, and an uplighter with a smooth, even beam.
An extensive RGBA color-mixing palette delivers outstanding color blend across the spectrum, including deep-cold blues, red-hot lava looks and super-soft pastels, as well as a complete range of whites. In addition, the high CRI of 93 ensures extremely accurate color matching.
"The Color One 100's dimming curve was excellent, there is no stepping in lower intensities and no annoying 'pop' on or off," Brandon continues. "Even with times of thirty seconds or higher, they did an amazing job of dimming."
Brandon also used the Chroma-Q Color Force 72™ battens to down light a layered canvas wall upstage.
"The wide array of color and control I got from the Color Force 72™ was amazing," he says. "Running the 72s in 48-channel mode allowed me to paint the cyc with broad or precise lighting brushstrokes. This precise control also allowed me to create more unique transitions between the 82 musical numbers in the production, keeping the visual composition intriguing and evolving with the show. The Color Force units really are my go-to fixtures due to their amazing lumen and color output."
The Color One 100 and Color Force 72 fixtures were supplied to Boston University for the production by Chroma-Q North American distributor, A.C. Lighting Inc.
The Chroma-Q range of premium performance solutions is designed and built to exacting standards in North America, and has been adopted by many leading designers and specifiers for some of today's most demanding and prestigious lighting applications. As a result of this, the brand has received awards from several industry associations.
Get your demonstration of the Chroma-Q LED range at the following upcoming international tradeshows in March & April:
USITT - Cincinnati, Ohio, 19th - 21st March, Booth 1821
CITT - Montreal, Canada, 26th - 27th March, Booth 140
NAB - Las Vegas, USA, 13th - 16th April, Booth C8439
Prolight & Sound - Frankfurt, Germany, 15th - 18th April, Booth 9.0-D47
Alternatively, to arrange a demo or for details of the nearest Chroma-Q open house events, contact:
(North American Master Distributor)
A.C. Lighting Inc.
Tel: +1 416 255 9494
northamerica@aclighting.com
(UK Dealer)
A.C. Entertainment Technologies Ltd.
Tel: +44 (0)1494 446000
sales@ac-et.com
Or for more information and to find your nearest reseller, visit www.chroma-q.com.
We're now social. Follow us on Facebook - www.facebook.com/chromaq.lighting - for the latest Chroma-Q breaking news, user application stories, competitions & other fun stuff.
Photo Caption: All photos © Boston University School of Theatre.
---
Chroma-Q and all associated product names are recognized trademarks, for more information visit www.chroma-q.com/trademarks. The rights and ownership of all trademarks are recognized. Whilst every effort has been made to ensure that the information is correct, Chroma-Q accepts no liability for errors or omissions. Technical specifications and data are provided for guidance only. Because we constantly aim to improve our products, we reserve the right to amend or alter at any time and without prior notice, the specifications of any product. E&OE.
Recent News