News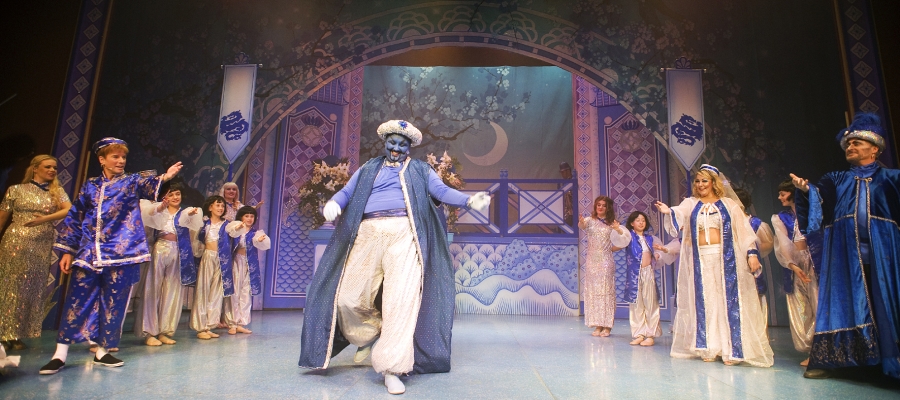 Chroma-Q Color One 100 LED Pars made their debut at Worthing's Connaught Theatre beaming bright, primary colours for an all-star production of Aladdin.
Originally an early cinema called the Picturedrome, in 1935 the venue was turned into a theatre when the Worthing Repertory Company outgrew its own premises - bringing with it the name Connaught Theatre. Last year's pantomime, Aladdin, starred singer Jon Lee of multi-million selling band S Club 7, alongside Britain's Got Talent semi-finalists Kieran Sutcliffe and Sarah Jameson.
The Color One 100™ LED Pars were purchased for use in the venue's Studio Theatre, but made their debut in the main auditorium for the panto, to provide bright and comprehensive stage coverage.
"The main attraction of the Color One 100s for me was the excellent colour mixing and replication along with the decent lens," says Martin Wright, Senior Technician at The Connaught. "The bright primary colours are excellent, but it was the more subtle colours that truly impressed alongside almost no colour separation. For our production of Aladdin, the fixtures truly excelled, providing great stage coverage and complementing the rest of the rig really well."
The Chroma-Q® Color One 100 features an innovative fully homogenised beam virtually eliminating the colour separation and shadows synonymous with LED lighting - delivering above Par performance from ONE source.
The extensive RGBA colour-mixing palette delivers deep-cold blues, red-hot lava looks and super-soft pastels, as well as a complete range of whites. In addition, the high CRI of 93 ensures extremely accurate colour matching.
With theatrical grade dimming, convection cooling for near-silent operation, a versatile mounting yoke and a choice of IP20 / IP65 models, the Color One 100 is ideal for numerous entertainment lighting applications.
Worthing Borough Council, which operates the Connaught under Worthing Theatres, were attracted by the Color One 100s as part of an effort to reduce the venue's energy consumption. Martin first encountered the Color One 100 fixtures at the PLASA London tradeshow last year.
"I think the price to performance ratio is very good, and although there are cheaper LED fixtures available, for me the build quality just isn't anywhere near that of the Color One 100s," Martin continues. "And as a venue with very tight production time constraints, we can't afford to have units go down, so we chose the Chroma-Q units as we know they're reliable and simple to set up."
The Color One 100 fixtures were supplied by Chroma-Q UK dealer, A.C. Entertainment Technologies (AC-ET) Ltd.
The Chroma-Q range of premium performance solutions is designed and built to exacting standards in North America, and has been adopted by many leading designers and specifiers for some of today's most demanding and prestigious lighting applications - including opera, theatre, TV, venues, touring, events, or other sectors. As a result of this, the brand has received awards from several industry associations.
Get your demonstration of the Chroma-Q LED range at the following upcoming international tradeshows in May & June:
Live Design Master Class: NYMC Lighting & Projection
- New York, USA, 2nd - 4th June
Cine Gear Expo - Los Angeles, USA, 4th - 7th June,
Booth S 231(Distributor, A.C. Lighting Inc.)
InfoComm - Orlando, Florida, 17th - 19th June,
Booth 6171, (Distributor, A.C. Lighting Inc.)
ABTT - London, UK, 24th - 25th June,
Stand A40 (Dealer, A.C. Entertainment Technologies)
Alternatively, to arrange a demo or for details of the nearest Chroma-Q open house events, contact:
(UK Dealer)
A.C. Entertainment Technologies Ltd.
Tel: +44 (0)1494 446000
sales@ac-et.com
(North American Master Distributor)
A.C. Lighting Inc.
Tel: +1 416 255 9494
northamerica@aclighting.com
Or for more information and to find your nearest reseller, visit www.chroma-q.com.
We're now social. Follow us on Facebook - www.facebook.com/chromaq.lighting - for the latest Chroma-Q breaking news, user application stories, competitions & other fun stuff.
---
Chroma-Q and all associated product names are recognized trademarks, for more information visit www.chroma-q.com/trademarks. The rights and ownership of all trademarks are recognized. Whilst every effort has been made to ensure that the information is correct, Chroma-Q accepts no liability for errors or omissions. Technical specifications and data are provided for guidance only. Because we constantly aim to improve our products, we reserve the right to amend or alter at any time and without prior notice, the specifications of any product. E&OE.
Recent News