News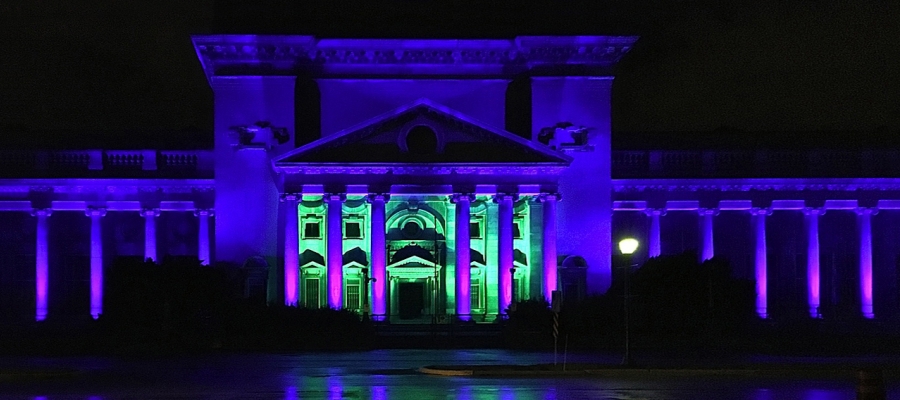 North America - Chroma-Q Color One 100 premium performance, IP65-rated LED PARs have provided a powerful yet energy-efficient lighting solution to beam bold colors, soft pastels and stunning whites onto the massive exterior façade of the Toronto Power Generating Station - playing against the background of the national historic site at Niagara Falls, Ontario, Canada.
The project was part of the Niagara Winter Festival of Lights event, which transforms the area around Niagara Falls into a palette of stunning colors, with millions of sparkling lights making up beautifully illuminated displays. Recently, the organisers have made a concerted effort to utilize only power-saving LED technology for their lighting designs.
Shear Display was the contractor responsible for the design and implementation of the installations along the Winter Festival of Light. One of the major elements of the Festival was a sound and light show on the exterior of the Toronto Power Generating Station - a majestic building adjacent to the Niagara River, fashioned in the Beaux-Arts style - which was illuminated by 75 IP65-rated Chroma-Q® Color One 100™ lighting fixtures.
Shear Display engaged the services of Toronto-based lighting company, Bartnes & Associates to oversee the lighting design, music creation, supply and maintenance for the project, which lit the power station for a three-month period.
"We recommended the 75 Color One 100s specifically for this event, choosing them because we required an IP65 fixture that could offer reliability for 12 weeks in open-air, unpredictable conditions right next to the Niagara Falls, as well as RGBA for superior color-mixing from a compact unit", says Bartnes & Associates' Eric Bartnes. "We can gang so many together on a single circuit and rig them easily. We also love the power-in and out connectors, and the stainless steel data connections."
Having ceased operations in 1974, the Toronto Power Generating Station is 'dead' and therefore custom electrics had to be installed to power the Festival lighting.
"We had eight circuits of 120V on the building side and only two circuits for FOH, which was stationed in a trailer across the street from the building", explains Eric.
Ironically, the 'on at full power' energy consumption of the Color One LED units was only 50 Watts per fixture / a total of 3.75 kW for all 75 fixtures - in stark contrast to the Toronto Power Generating Station, which in its prime had a generating capacity of up to 102,500 kW.
"The power station's pillars provided a natural opportunity to uplight their surface, and we used custom concrete blocks with nuts embedded in the concrete for baseplates, upon which the 75 Color One 100 units were placed. We also designed a custom low-profile aluminum lighting tower to get some lights 20 feet in the air."
The Chroma-Q Color One 100 features an innovative fully homogenized beam, virtually eliminating the color separation and shadows synonymous with LED lighting - delivering above PAR performance from ONE source.
The extensive RGBA color-mixing palette delivers deep-cold blues, red-hot lava looks and super-soft pastels, as well as a complete range of whites. In addition, the calibrated light engines ensure extremely accurate color-matching.
The Color One 100 light show ran automatically for seven hours per night, seven days a week, controlled by a Jands Vista console with a LumenRadio set-up to send signals across the road to the receivers. The Niagara Winter Festival of Lights kicked off in November 2015 and ran until the end of January 2016.
"The ice mist around Niagara Falls can be brutal, but the Color One 100s all performed!", Eric concludes.
Utilising core LED technology from the Chroma-Q premium performance lighting range, the multi-purpose Color One 100 fixture is ideal for a wide range of applications and provides a powerful, creative lighting tool. It is available in a choice of IP20 and IP65 versions.
A video of the Color One 100s lighting the power station can be viewed at:
http://www.niagaraparks.com/niagara-falls-events/winter-festival-of-lights.html
Bartnes & Associates purchased the fixtures from Chroma-Q North American distributor, A.C. Lighting Inc.
The Chroma-Q range of premium performance solutions is designed and built to exacting standards in North America, and has been adopted by many leading designers and specifiers for some of today's most demanding and prestigious lighting applications. As a result of this, the brand has received awards from several industry associations.
Get your demonstration of the Chroma-Q LED range at the following upcoming international tradeshows:
BSC Expo – Battersea, London, UK, 29th – 30th January
Stand 213, (Dealer, A.C. Entertainment Technologies)
Integrated Systems Europe - Amsterdam RAI, NL, 9th - 12th February
Stand 9-F104 (Dealer, A.C. Entertainment Technologies)
BVE 2016 - Excel, London, UK, 23rd - 25th February
Stand M45 (Dealer, A.C. Entertainment Technologies)
USITT Conference & Stage Expo 2016 - Utah, USA, 17th - 19th March
Booth 1527, (Distributor, A.C. Lighting Inc.)
Prolight & Sound 2016 - Frankfurt, Germany, 5th - 8th April
Stand 5.0 A26 & 27 (Dealer, A.C. Entertainment Technologies)
Alternatively, to arrange a demo or for details of the nearest Chroma-Q open house events, contact:
(North American Sales Enquiries)
A.C. Lighting Inc.
Tel: +1 416 255 9494
northamerica@aclighting.com
(International Sales Enquiries)
A.C. Entertainment Technologies Ltd.
Tel: +44 (0)1494 446000
international.sales@ac-et.com
Or for more information and to find your nearest reseller, visit www.chroma-q.com.
We're now social. Follow us on Facebook - www.facebook.com/chromaq.lighting - for the latest Chroma-Q breaking news, user application stories, competitions & other fun stuff.
---
Chroma-Q and all associated product names are recognized trademarks, for more information visit www.chroma-q.com/trademarks. The rights and ownership of all trademarks are recognized. Whilst every effort has been made to ensure that the information is correct, Chroma-Q accepts no liability for errors or omissions. Technical specifications and data are provided for guidance only. Because we constantly aim to improve our products, we reserve the right to amend or alter at any time and without prior notice, the specifications of any product. E&OE.
Recent News