News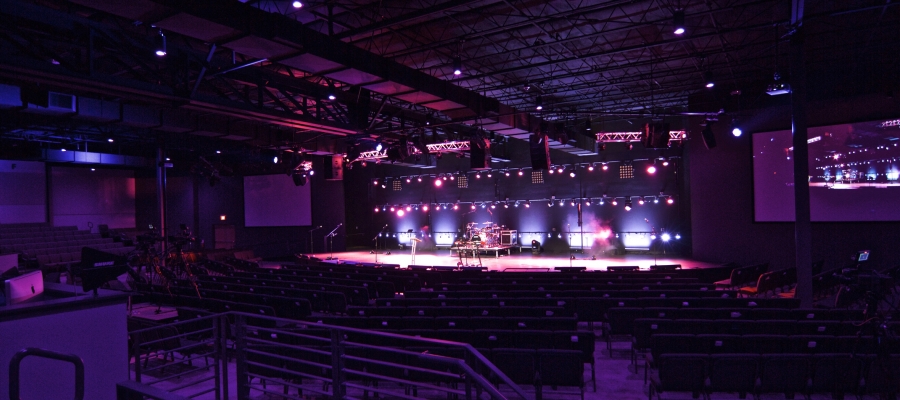 North America – Over eighty of the award-winning Chroma-Q Inspire color-changing LED house light fixture have been installed at the First Assembly Church in Raleigh, North Carolina, to provide an immersive worship experience.
The Church is an Assemblies of God organisation that stresses the importance of godly living, Christian service and personal salvation. It recently relocated to an extensively renovated, 58,000 sq. ft. former industrial facility.
The Church's Executive Pastor, Danny Collins, approached Douglas Hood, President of Indiana-based CSD Group, to supply a lighting solution for the new building.
"Versatility was a recurring theme in our design meetings, with the hope of creating an environment where we could blur the lines between stage and seating using lighting," says Danny. "Therefore, we required color-capable, fully-dimmable lighting which could be controlled from FOH as well as from wall panels located throughout the venue. The Chroma-Q® Inspire™ was our recommended solution due to its richness and depth of color, plus its smooth transition and fades – and not forgetting its modern, energy-efficient LED design. It is a great fixture."
Douglas continues: "As part of the design process we were able to share with the Church how using color-mixing house lights could let us treat the entire space as a canvas – not just the stage – which was very appealing to them. This is a great Church with a dynamic worship ministry, so to have these fixtures throughout the house just gives the tech team even more creativity in how they build the 'look' of each service. From powerful lighting effects to subtle changes, the Inspires represent another great instrument in their creative toolbox."
The Inspire fixtures are DMX controlled, so can be easily integrated into the building's control system – meeting the tech team's requirement to be able to operate them from multiple control point locations. They have several control personalities, such as RGBW, fxHSI and HSI, for maximum flexibility no matter what desk is used. The dimming is step-free and offers a smooth range across the entire curve from 100% to off.
"We looked at a few different cost options from a several manufacturers," Douglas continues. "Given the caliber of this project and the end result we were looking for, the Inspire was our fixture of choice and the client trusted us to make that decision. They are thrilled with the results."
The Church's Worship Pastor, Charlie Perkins, adds: "The staff and congregation have been blessed beyond measure by the lighting system."
The Inspire fixtures were supplied to CSD by Chroma-Q North American distributor, A.C. Lighting Inc.
The Chroma-Q range of premium performance solutions is designed and built to exacting standards in North America, and has been adopted by many leading designers and specifiers for some of today's most demanding and prestigious lighting applications. As a result of this, the brand has received awards from several industry associations.
Other leading house of worship venues to have invested in the Chroma-Q Inspire house light fixture include the Maranatha Assembly of God Church in Minnesota, Celebration Church in Florida, Valley Creek Church in Texas, and the historic Pieterskerk building - formerly a Church - in the Dutch city of Leiden.
Get your demonstration of the Chroma-Q LED range at the following upcoming tradeshows:
CITT Rendez-Vous 2016 – Winnipeg, Canada, 18th – 20th August
Booth 1, (Distributor, A.C. Lighting Inc.)
IBC 2016 – RAI Amsterdam, Netherlands, 9th – 13th September
Stand 12.E71, (Dealer, A.C. Entertainment Technologies)
PLASA 2016 – Olympia, London, England, 18th – 20th September
Stand E30, (Dealer, A.C. Entertainment Technologies)
WFX 2016 - Louisville, Kentucky, USA, 21st - 22nd September
Booth 701, (Distributor, A.C. Lighting Inc.)
LDI 2016 - Las Vegas, USA, 21st - 23rd October
Booth 2252, (Distributor, A.C. Lighting Inc.)
Alternatively, to arrange a demo or for details of the nearest Chroma-Q open house events, contact:
(North American Sales Enquiries)
A.C. Lighting Inc.
Tel: +1 416 255 9494
northamerica@aclighting.com
CSD Group, Inc.
Tel: +1 260 918 3500
www.csdus.com
(International Sales Enquiries)
A.C. Entertainment Technologies Ltd.
Tel: +44 (0)1494 446000
international.sales@ac-et.com
Or for more information and to find your nearest reseller, visit www.chroma-q.com.
We're now social. Follow us on Facebook - www.facebook.com/chromaq.lighting - for the latest Chroma-Q breaking news, user application stories, competitions & other fun stuff.
---
Chroma-Q and all associated product names are recognized trademarks, for more information visit www.chroma-q.com/trademarks. The rights and ownership of all trademarks are recognized. Whilst every effort has been made to ensure that the information is correct, Chroma-Q accepts no liability for errors or omissions. Technical specifications and data are provided for guidance only. Because we constantly aim to improve our products, we reserve the right to amend or alter at any time and without prior notice, the specifications of any product. E&OE.
Recent News