News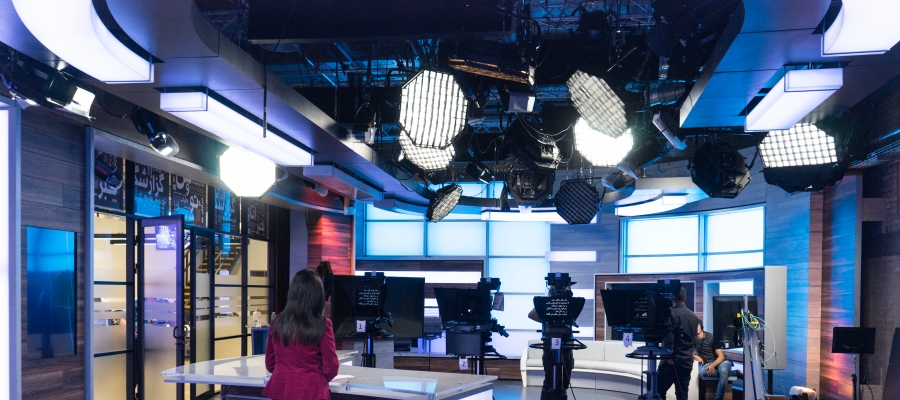 The award-winning Chroma-Q Space Force fixture has been selected to provide powerful soft lighting for the studios of Wimbledon, London-based Marjan Television Network - one of the leading broadcasters to the Persian-speaking world with over 25 million viewers.
Marjan, which has just completed a major refurbishment of its studio lighting infrastructure, broadcasts a wide range of entertainment programmes to viewers across the globe. These include Persian-language versions of well-known British favourites such as The X Factor, Come Dine With Me and Spitting Image, as well as producing several hours per day of live output programming from its studios.
Amongst the various technical requirements for the studio upgrade, Marjan wanted a powerful yet energy-efficient white soft light which could deliver a high quality output with good colour rendition on camera.
The award-winning Chroma-Q® Space Force™ was ideal for the studio lighting, having an output of up to 26,700 lumens with controlled colour temperature from 2,800K to 6,500K, and a CRI / TLCI of up to 97.
Despite weighing in at only 8kg, it has an internal ballast and passive cooling (no fans), which renders it very quiet in use. Like other Chroma-Q fixtures, it has variable PWM which gives it flicker-free operation, and it can be wirelessly controlled.
The studio facilities also feature the Chroma-Q Color One 100X™ RGBA LED PAR, to provide colour-mixing lighting effects during broadcasts.
The Chroma-Q fixtures were supplied by UK dealer, A.C. Entertainment Technologies Ltd (AC-ET).
Get your demonstration of the Chroma-Q Space Force at the KitPlus show, MediaCityUK Studios, Salford, Manchester on 7th November 2017, or visit www.chroma-q.com/tradeshows for a list of all upcoming international shows.
Alternatively, to arrange your personal demonstration, contact:
(International Sales Enquiries)
A.C. Entertainment Technologies Ltd.
www.ac-et.com
Tel: +44 (0)1494 446000
international.sales@ac-et.com
(North American Sales Enquiries)
A.C. Lighting Inc.
www.aclighting.com
Tel: +1 416 255 9494
northamerica@aclighting.com
Keep up to date with the latest Chroma-Q news via their social network pages:
www.twitter.com/chromaqlighting
www.facebook.com/chromaq.lighting
---
Chroma-Q and all associated product names are recognized trademarks, for more information visit www.chroma-q.com/trademarks. The rights and ownership of all trademarks are recognized. Whilst every effort has been made to ensure that the information is correct, Chroma-Q accepts no liability for errors or omissions. Technical specifications and data are provided for guidance only. Because we constantly aim to improve our products, we reserve the right to amend or alter at any time and without prior notice, the specifications of any product. E&OE.
Recent News