News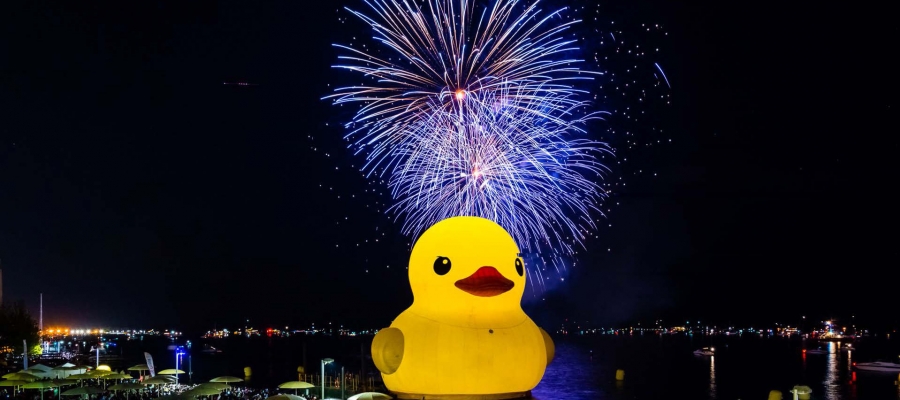 The world's largest duck landed in Toronto Harbour just in time for Canada's 150th birthday. At a height of 6 storeys and weighing in at 30,000 lbs, the duck drew a crowd of over 750,000 visitors who came to see the spectacle before it left the Harbour over the Canada day weekend.
A definite display during daylight hours, the duck is especially spectacular when illuminated at night amidst the ceremony of fireworks. Two high output Chroma-Q® Studio Force™ V 12 LED fixtures brought the giant duck to life making it visible throughout the habour. Mounted inside the duck, the Studio Force V 12s made the duck easy to see from distances near and far.
Chroma-Q Studio Force V 12 is a 3,000K – 6,100K CCT, variable white version featuring laboratory calibrated 3,200°K and 5,600°K pre-sets that specifically designed for TV, film, touring, exhibitions, corporate events, theatre lighting applications (and a duck, in this case). At only 300mm / 1ft* long, the unit is ideal for floor, wall or truss mounting.
---
For more information about Chroma-Q products, contact:
+44 (0)1494 446000
sales@chroma-q.com
www.chroma-q.com
www.facebook.com/chromaq.lighting
Chroma-Q and all associated product names are recognized trademarks, for more information visit www.chroma-q.com/trademarks. The rights and ownership of all trademarks are recognized. Whilst every effort has been made to ensure that the information is correct, Chroma-Q accepts no liability for errors or omissions. Technical specifications and data are provided for guidance only. Because we constantly aim to improve our products, we reserve the right to amend or alter at any time and without prior notice, the specifications of any product. E&OE.
Recent News