News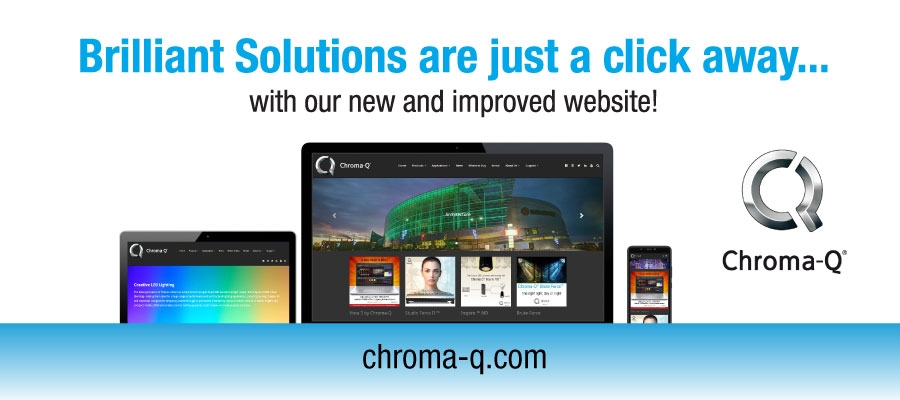 Chroma-Q® is pleased to announce the launch of an all-new website celebrating its 15th year as a producer of premium performance LED lighting solutions, and topping off an exceptional twelve months that has seen the brand launch four new products.
Designed to deliver a better overall user experience, www.chroma-q.com features a cleaner design, improved menu functionality with faster navigation, and is now fully responsive - adapting to the best layout for viewing on mobile, tablet and desktop.
The website also reflects Chroma-Q's evolution over the past 15 years into its position today as a leading global player in the supply of premium performance LED lighting solutions to the Entertainment, Film and Architectural markets.
In the past year alone, Chroma-Q has launched four products offering genuine innovation in their markets. Studio Force II™ is a high quality LED white light featuring an extended CCT colour palette. Brute Force™ is a powerful LED alternative to traditional light sources such as a quarter 'Wendy Light'. Inspire MD™ is a white output LED house light which connects directly to a traditional dimming system. In addition to these LED products, Vista 3™ is a dynamic, next generation lighting & media control system.
Chroma-Q's Global Brand Manager, Paul Pelletier commented: "As with our goal to achieve brilliant solutions for our customers, we developed the new website to offer a great user experience befitting of the brand."
Check out the new website now at www.chroma-q.com.
---
Follow us on:
www.facebook.com/chromaq.lighting
www.instagram.com/chromaq
Studio Force II patents pending.
Chroma-Q and all associated product names are recognised trademarks, for more information visit www.chroma-q.com/trademarks. The rights and ownership of all trademarks are recognised. Whilst every effort has been made to ensure that the information is correct, Chroma-Q accepts no liability for errors or omissions. Technical specifications and data are provided for guidance only. Because we constantly aim to improve our products, we reserve the right to amend or alter at any time and without prior notice, the specifications of any product. E&OE.
---
Editors Note:
Chroma-Q® have been designing lighting equipment since the mid 1990s, when they established a reputation for high product quality, innovation and reliability with hugely successful products such as the Original colour changer.
In 2004 Chroma-Q launched their first LED fixture, the Color Block DB4™ - a product so popular that it's still selling today in a newer incarnation with upgraded technologies.
Since then, Chroma-Q have a gained a reputation for introducing award-winning, premium LED lighting solutions which deliver the highest performance levels required by today's most demanding applications - including concerts & theatre shows, film & TV broadcasts, retail, leisure & museum installations, exhibitions & corporate hospitality events.
Chroma-Q have an equally impressive track record developing a range of lighting colour changers, effects, gobo rotators, and various control & data distribution products
Recent News