News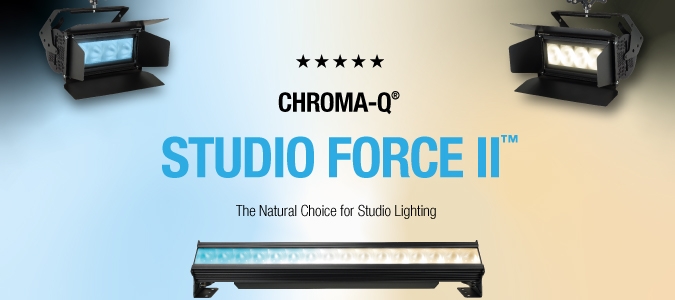 Having established itself as a crew favourite on productions of all sizes and genres, the Chroma-Q® Space Force™, continues to deliver on set performance, whilst offering significant savings in both energy and operational costs on titles including, Star Wars: The Rise of Skywalker.
Gaffer David Smith (The King's Man, Spectre), an early adopter of the Space Force™ fixtures, began using the Space Force™ whilst working alongside Cinematographer Dion Beebe during filming of Mary Poppins Returns.
"We used several hundred Space Force™ fixtures on Mary Poppins. They proved to be an ideal space light solution for us, particularly when working between 2800 and 6500K. The bi-colour versatility can be extremely useful. As a space light alternative, the Space Force™ has certainly been my lamp of choice".
David Smith made further use of Chroma-Q® by incorporating the Studio Force II™ in his designs on Fast & Furious: Hobbs & Shaw, filmed with Cinematographer Jonathan Sela. Filming the grand night exterior at St Pauls cathedral, David used over 100 of the fixtures to provide the dramatic uplighting across the entire building façade, creating a stunning backdrop for the action sequence at the City of London location.
"I liked the look of the Studio Force II™ as soon as I saw them" said David. "They are great as a stand-alone, artistic tool. They have plenty of scope for controllable colour, which was perfect for the night exterior on Hobbs & Shaw".
LED is becoming increasingly accepted on sets around the world as a practical, effective alternative to traditional light sources. As this trend continues, Chroma-Q® remains committed to developing innovation and providing crews with cutting edge lighting solutions that combine superfluous output with unparalleled creative freedom.
Commenting on supporting production, Paul Pelletier, Chroma-Q® Global Brand Manager, says "At Chroma-Q® we're immensely proud to have delivered a range of products that have proven themselves to become 'industry standards'. It is hugely rewarding to see our products being adopted by some of the world's leading crews and to see the creative application of our products help create some incredible cinematographic moments".

Visit www.chroma-q.com for more information and a full list of Chroma-Q dealers.
Follow us on:
www.facebook.com/chromaq.lighting
www.instagram.com/chromaq
Studio Force II patents pending.
Recent News