News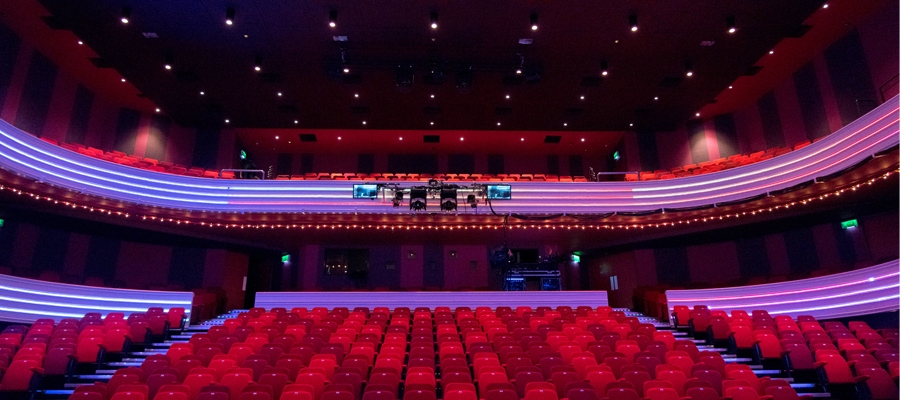 UK – The Orchard Theatre in Dartford has selected Chroma-Q® Inspire™ LED fixtures to provide a high quality, immersive house lighting experience for audiences.

One of the South East's premier performing arts venues, the Theatre attracts leading West End musicals and other major touring productions, as well as hosting top comedians, bands, dramas, dance, opera and its popular annual pantomime.
As part of a £500,000 auditorium modernisation programme, the house lighting received a significant upgrade to enhance the audience experience, increase the venue's energy efficiency, and enable it to widen the range of shows and events on offer – such as flat-floor conferences, banquets and other activities.

Following an on-site lighting shootout, Paul Seed, Group Operations Manager for HQ Theatres and Hospitality, who operate the Orchard Theatre, specified the Chroma-Q Inspire RGB + W LED house light.

He commented:

"We wanted to make a statement in the new auditorium. One of the key improvements was to facilitate flat floor events in a more effective way. With the Inspires we can effectively 'colour up' the main part of the flat floor auditorium."

Due to the fixture's RGB colour-mixing abilities alongside high quality white lighting, the venue can now change the entire mood of the auditorium with the house lights. This creates a more immersive experience for audiences during shows and events.

Paul remarked:
"This really adds a layer of flexibility, as we can 'tune' the colouring of the space to make the most of the new colour scheme and auditorium design."

The venue is also enjoying the energy efficiency benefits of moving from a high-powered halogen light source that was becoming increasingly difficult to source. In addition, with no lamps to replace, the lighting is almost maintenance-free.

Paul concluded:
"We're really happy with the Inspires. They were simple to set up, the build quality is excellent, and the output is second to none. The smooth dimming curve and colour rendering merge seamlessly with the utility lighting."
Paul sourced the Inspire fixtures from Chroma-Q UK dealer, A.C. Entertainment Technologies Ltd. (AC-ET). Andy Mahaffey handled the project, also overseeing supply of the data infrastructure for the entire installation. Other equipment included Luminex network switches & nodes, lighting fixtures, rigging & sound equipment.

Paul commented:
"With only seven weeks to deliver the refurbishment, Andy's swift responses and AC-ET's swift turnaround on orders, were a key factor in keeping the project on track. Andy's product knowledge was also invaluable, and led to a system that plugged in and worked first time."
Recent News