News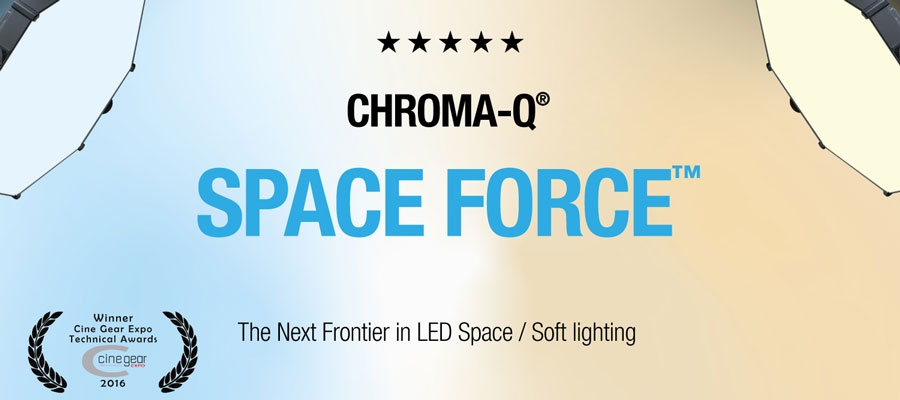 For well over a decade, award-winning LED lighting producer, Chroma-Q, has been steadily establishing themselves as a respected provider of high-performance, energy-efficient lighting solutions to the film industry.
Gaining recognition from crews around the world as true LED alternatives to more traditional sources, Chroma-Q® products have become a key feature in the creative process on all manner of productions.
Gaffer Martin Smith (6 Underground, Mission: Impossible - Fallout, Transformers: The Last Knight), an experienced practitioner and keen advocate of new technology, has worked with Chroma-Q® on a number of occasions.
Speaking about the Space Force™ LED softlight, Martin says "Chroma-Q's Space Force fixtures offer a bright, bi-colour alternative to using a traditional tungsten spacelight. Requiring only two DMX channels and just 330 Watts of power, rigging hundreds of these is quick and energy-efficient, whilst maintaining individual control across an entire studio."
Chroma-Q® Brute Force™, the revolutionary LED quarter Wendy Light alternative, has also received praise for its ability to deliver powerful performance on set, whilst offering significant savings in both energy and operating costs.
Martin Continues "Taking 12 Brute Force 6's to Italy with Cinematographer Bojan Bazelli ASC, we realised the creative potential of shooting large exterior locations at night with LED. Dedicated colour temperature control and a sophisticated 16Bit RGBW engine housed in a weather-proofable enclosure ensures this fixture is as versatile as it is impressive. At less than 4000 Watts, in my opinion this offers the best Bang for Buck on the market".
Martin concludes "Both of these tried and tested units allow cinematographers to shoot "off speed", without having to consider adverse effects created by using LED on a film set."
With the design and development of effective low energy alternatives becoming more important than ever, Chroma-Q® are consistently addressing the requirement for quality products. Proudly supporting crews on some of the most important cinematic releases of the past few years the company continues to innovate and inspire.
Paul Pelletier, Chroma-Q® Global Brand Manager, comments "Our mission is to deliver a product range which enables the best possible creative experience. We're incredibly proud to partner with Gaffers, Cinematographers, production crews and rental houses as part of our product development programme. It's this kind of collaboration and seeing the incredible, artistic application of our products that is helping us drive forward the evolution of energy-efficient solutions."
---
Chroma-Q and all associated product names are recognised trademarks, for more information visit www.chroma-q.com/trademarks. The rights and ownership of all trademarks are recognised. Whilst every effort has been made to ensure that the information is correct, Chroma-Q accepts no liability for errors or omissions. Technical specifications and data are provided for guidance only. Because we constantly aim to improve our products, we reserve the right to amend or alter at any time and without prior notice, the specifications of any product. E&OE.
Editor's note
Chroma-Q® have been designing lighting equipment since the mid 1990s, when they established a reputation for high product quality, innovation and reliability with hugely successful products such as the Original colour changer.
In 2004 Chroma-Q launched their first LED fixture, the Color Block DB4™ - a product so popular that it's still selling today in a newer incarnation with upgraded technologies.
Since then, Chroma-Q have a gained a reputation for introducing award-winning, premium LED lighting solutions which deliver the highest performance levels required by today's most demanding applications - including concerts & theatre shows, film & TV broadcasts, retail, leisure and museum installations, exhibitions & corporate hospitality events.
Chroma-Q have an equally impressive track record developing a range of lighting colour changers, effects, gobo rotators, and various control & data distribution products.
Recent News