News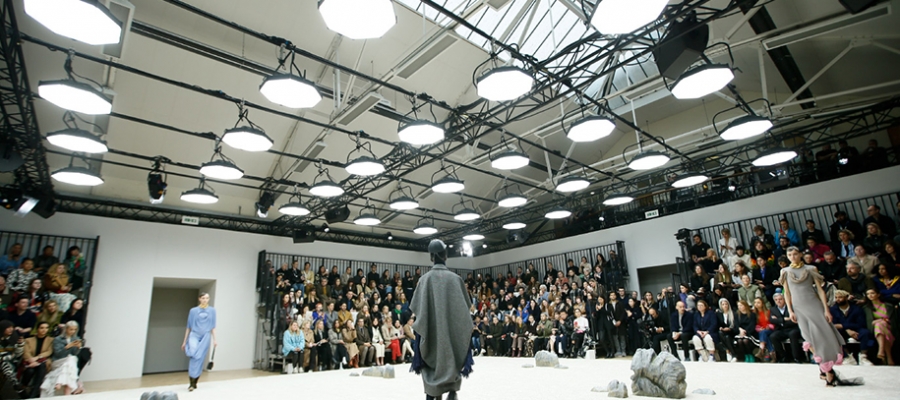 UK - Lighting Designer Stuart Pring has used Chroma-Q® Space Force™ LED soft lights to beautifully illuminate the JW Anderson February Autumn/Winter Fashion Show.
Stuart, an experienced Lighting Designer, has previously worked on The 2018 Teen Awards, a variety of television studios including for NBC/ESPN's Wimbledon Studio, and TV series 'John Bishop in Conversation'.
The JW Anderson Fashion Show was hosted on an 11m square catwalk, which required Stuart to deliver an even coverage of light across the entire area. For this, Version 2 - lighting rental specialists for the Television, Broadcast and Event industries - provided Stuart with 36 Space Force tuneable white LED soft lights.
Stuart commented: "I needed to achieve an even wash of daylight white light, to faithfully reproduce the colours of the models' clothing. The fixture's output was flawless in creating a seamless coverage across the entire catwalk area. In addition, being LED there was minimal heat emission, which was perfect for the room's low 5m high ceiling with 300 attendees."
Stuart also praised the quality of the light for photography applications. He concluded: "The output of 5,600K gave the perfect colour temperature for the photographers, and the adjustable PWM, flicker-free operation ensured the live stream on the JW Anderson website and Facebook page rendered beautifully on camera."
Photo credit: 4Friends Film
Chroma-Q and all associated product names are recognised trademarks, for more information visit www.chroma-q.com/trademarks. The rights and ownership of all trademarks are recognised. Whilst every effort has been made to ensure that the information is correct, Chroma-Q accepts no liability for errors or omissions. Technical specifications and data are provided for guidance only. Because we constantly aim to improve our products, we reserve the right to amend or alter at any time and without prior notice, the specifications of any product. E&OE.
Recent News