News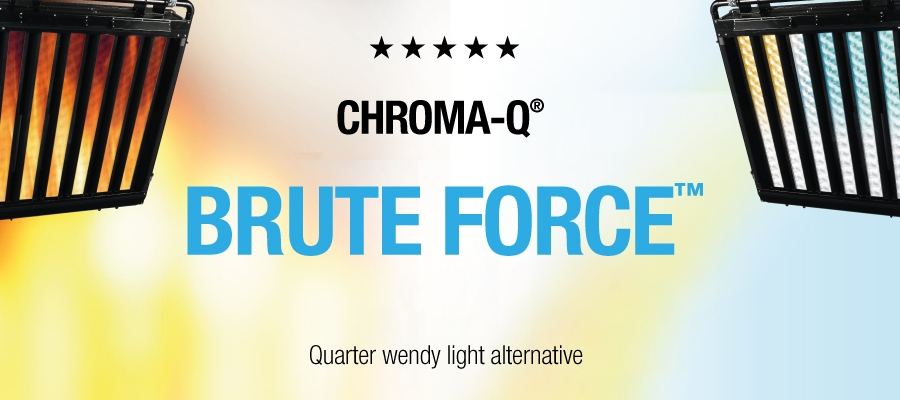 Having developed and introduced LED solutions for use within the production industry for over 15 years, award-winning, innovators Chroma-Q® have built a steady following that continues to see the creative application of their low energy technology by a growing number of crews.
One such recent advocate of the Chroma-Q® Brute Force™ is Gaffer David Sinfield (Venom 2, Aladdin, Wonder Woman).
Speaking about working with Chroma-Q, David says "On my past 2 movies I have used the Chroma-Q Brute Force both for large scale night shoots, rigged high up on cranes and also for interactive lighting on stage work."
Drawing just 15 amps @ 240V The Brute Force is a true LED full-colour RGB-W light source, fully dimmable with an extended CCT range between 2,000K and 10,000K. Available as 6-lamp and 4-lamp options, the Brute Force's multi-point fixings allows units to be easily combined to form a powerful, low energy alternative to a 'conventional' quarter Wendy.
David is quick to highlight the benefits of working with such a versatile, energy efficient solution, "As a Gaffer the Brute Force is an amazing lamp to have at your disposal. For night shoots we can rig quickly, on cranes, and the low power consumption allows us to easily run them using 5kw Voltstacks, without the need for generators."
This ability to combine the capabilities of the Brute Force with silent battery power units such as the Voltstack, make the fixtures a flexible, highly effective light source that has proven to be particularly capable when used in remote locations or noise sensitive environments.
David adds "The Brute Force is controlled via the lighting desk in seconds, giving the Cinematographer the flexibility to change colours and intensity while the lamp is 150ft in the air. They have enough firepower to backlight a whole street or equally add a textile to soften them for a beautiful soft source through a window that remains powerful enough and flexible enough to control. This lamp has become my go to tool on a lot of large scale shoots."
Chroma-Q Global Brand Manager, Paul Pelletier comments "It's incredibly rewarding to see the growing use of Chroma-Q fixtures on productions of all size and genre. Our Brute Force fixtures provide users with a high-output, low energy alternative to traditional light sources which has proven itself both in the studio and out on location. We are proud to be able to make this no-compromise, energy efficient technology available to Gaffers, Cinematographers, production crews and rental houses the world over."

Visit www.chroma-q.com for more information and a full list of Chroma-Q dealers.
Follow us on:
www.facebook.com/chromaq.lighting
www.instagram.com/chromaq
---
Chroma-Q and all associated product names are recognised trademarks, for more information visit www.chroma-q.com/trademarks. The rights and ownership of all trademarks are recognised. Whilst every effort has been made to ensure that the information is correct, Chroma-Q accepts no liability for errors or omissions. Technical specifications and data are provided for guidance only. Because we constantly aim to improve our products, we reserve the right to amend or alter at any time and without prior notice, the specifications of any product. E&OE.
Editor's note:
Chroma-Q® have been designing lighting equipment since the mid 1990s, when they established a reputation for
high product quality, innovation and reliability with hugely successful products such as the Original colour changer.
In 2004 Chroma-Q launched their first LED fixture, the Color Block DB4™ - a product so popular that it's still selling today in a newer incarnation with upgraded technologies.
Since then, Chroma-Q have a gained a reputation for introducing award-winning, premium LED lighting solutions which deliver the highest performance levels required by today's most demanding applications - including concerts & theatre shows, film & TV broadcasts, retail, leisure & museum installations, exhibitions & corporate hospitality events.
Chroma-Q have an equally impressive track record developing a range of lighting colour changers, effects, gobo rotators, and various control & data distribution products.
Recent News