News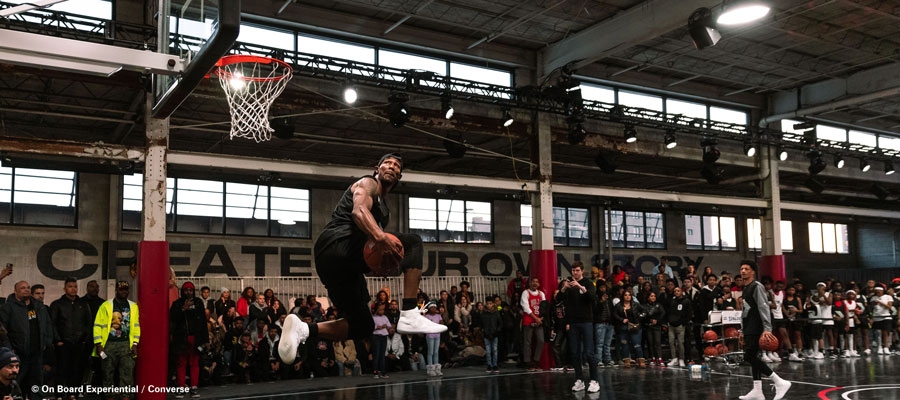 Chroma-Q® lights the NBA All Star Weekend Festivities
North America - The Creative All Star Series held during the NBA All Star weekend in February was full of excitement, fun, and opportunities for customers to experience what basketball is all about. The event is open to the public and put on by Converse so that customers and basketball fans can come and experience creative speakers, the history of Converse, customize their own shoes, and much more.
The event features a scaled basketball court that is custom fit to the size of its host industrial warehouse. The basketball court is the main focal point of this event as the weekend concludes with the NBA All Star Game at Chicago's United Center.
During the festivities, customers get the opportunity to watch various dunk contests, amateur league basketball games, and a youth tournament.
Cort Lawrence from Creative by Cort was tasked by Production Manager Russ Keith with lighting this exciting event. The scaled size basketball court that has been lit from above using ten Chroma-Q® Space Force™ fixtures.
"I wanted to be able to mimic the feeling of being on an actual NBA basketball court." Explains Lawrence. "I chose the Chroma-Q® Space Force™ fixtures because I knew they would provide a clean wash of light, and give off a beautiful color temperature that enhanced the atmosphere for all the events happening on the court."
In order to provide the desired results, the fixtures were rigged in a 5 by 2 configuration from truss and warehouse beams overhead, providing the optimal spread of light to mimic a real NBA basketball court.
"I was most excited to see the color temperatures in this warehouse pop up, and how we could imitate the feeling being under the lights on an NBA basketball court, so the fans could have a unique experience." comments Lawrence "The entire production team was very impressed by Chroma-Q®'s Space Force™ fixtures and by how versatile they were for the court, an art installation, and a concert. What a weekend."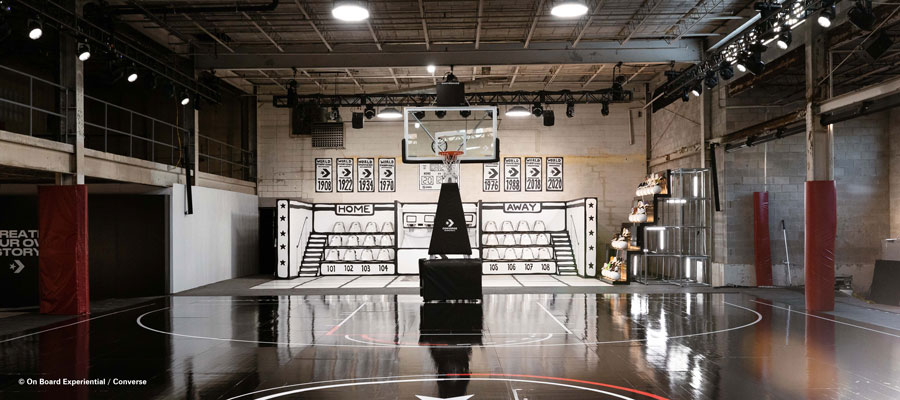 ---
Photo credit: On Board Experiential / Converse
Chroma-Q® and all associated product names are recognised trademarks, for more information visit www.chroma-q.com/trademarks. The rights and ownership of all trademarks are recognised. Whilst every effort has been made to ensure that the information is correct, Chroma-Q® accepts no liability for errors or omissions. Technical specifications and data are provided for guidance only. Because we constantly aim to improve our products, we reserve the right to amend or alter at any time and without prior notice, the specifications of any product. E&OE.
About Chroma-Q®
Chroma-Q® has been designing lighting equipment since the mid 1990s, when they established a reputation for high product quality, innovation and reliability with hugely successful products such as the Original colour changer.
In 2004 Chroma-Q launched their first LED fixture, the Color Block DB4™ - a product so popular that it's still selling today in a newer incarnation with upgraded technologies.
Since then, Chroma-Q® have a gained a reputation for introducing award-winning, premium LED lighting solutions which deliver the highest performance levels required by today's most demanding applications - including concerts & theatre shows, film & TV broadcasts, retail, leisure & museum installations, exhibitions & corporate hospitality events.
Chroma-Q® have an equally impressive track record developing a range of lighting colour changers, effects, gobo rotators, and various control & data distribution products.
About A.C. Lighting, Inc.
A.C. Lighting, Inc. is a value-added distributor of world-class lighting and associated rigging technologies for the theater, film, television, worship, exhibition, and commercial markets. A.C. Lighting Inc. a North American distributor for premiere brands including Chroma-Q® LED lighting, Visa by Chroma-Q® lighting and media control surfaces, PROLIGHTS high value and high-performance range of lighting, video and effects products, Luminex Networking Intelligence manufacturer of data distribution equipment, Manfrotto and Avenger: Professional Lighting Stands and Accessories, Follow-Me Remote Follow Spot Control Systems, LumenRadio wireless lighting controls, Jands StageCL and Prolyte staging and trussing.
For more information, please visit www.aclighting.com or call 416.255.9494
Recent News