News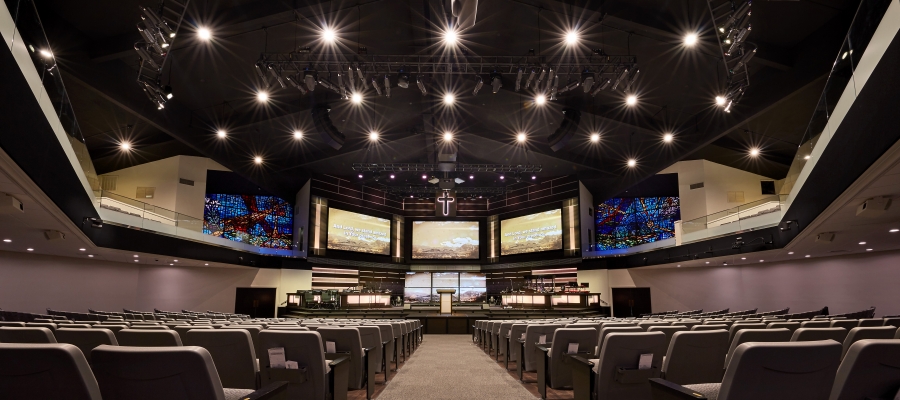 There's no doubt that when it comes to building a strong and healthy congregation, unity is paramount. Providing a gathering place that is warm and uplifting is an important part of sharing the message. It doesn't hurt to be dynamic, either.
Being a church that opens its doors to people from all backgrounds, Crossgates Baptist Church values relevant teaching, honest friendship and heart-felt worship and offers many ministries to meet the needs of the community. In fact, today, the church not only hosts in-person worship services, but broadcasts their reverence activities via its Television Ministry.
When time to renovate, the aim became to create a worship space that encompassed technology such as audio, video, lighting and scenic elements – all that would help to create an environment that supported the tone of a message, stirred emotions and inspired action.
Turning to Paragon 360 to facilitate all aspects of the renovation of the sanctuary, the goal was to transform the sanctuary into a place with state-of-the-art AVL, rigging, acoustic and lighting systems.
In an effort to allow for more flexible design opportunities, the existing house lighting was replaced with full color, LED house lights, namely, 59 Chroma-Q® Inspire™ RGBW fixtures. These were chosen for their ability to reveal soft pastels and unflinching saturates, enabling a seamless transition between the stage and congregation.
The Chroma-Q Inspire is compact, yet powerful, DMX controlled and is adjustable from 1,000K to 10,000K, boasts theatrical grade dimming, is silent convection cooled (no fans), has a built-in power supply, all packaged within in an energy-efficient compact LED design that provides reduced maintenance and running costs.
The Crossgates project pushed the Paragon 360 Design Team into uncharted territory, utilizing cutting edge, state-of-the-art technology and systems integration in ways that had simply not been done before.
"There's really no other company that can take all the aspects of a worship center - the scenic, the lighting, the audio, the video – and move it together in such a pattern and a synergistic way to where it becomes just so easy to use it to engage people in worship. It's just a powerful thing," said Worship Pastor, David Oliver.
For more information about the Inspire range visit the Chroma-Q® Inspire™ product page.
For more information about the entire Chroma-Q product line visit: www.chroma-q.com
---
Chroma-Q and all associated product names are recognized trademarks, for more information visit www.chroma-q.com/trademarks. The rights and ownership of all trademarks are recognized. Whilst every effort has been made to ensure that the information is correct, Chroma-Q accepts no liability for errors or omissions. Technical specifications and data are provided for guidance only. Because we constantly aim to improve our products, we reserve the right to amend or alter at any time and without prior notice, the specifications of any product. E&OE.
Recent News