News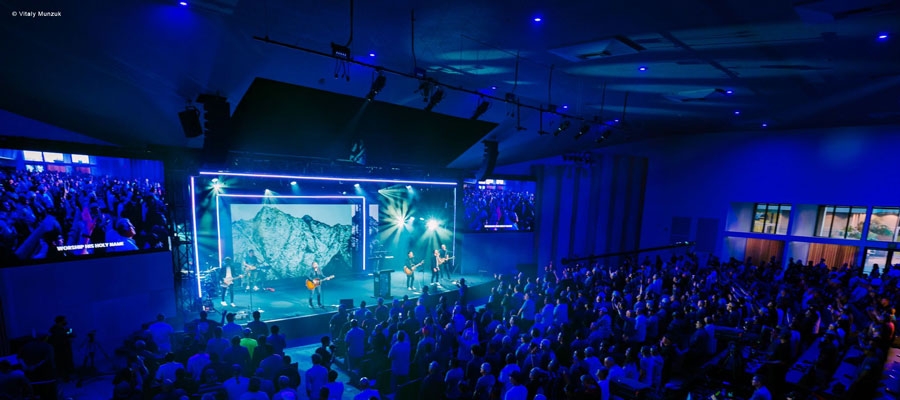 New House Lighting features the Chroma-Q® Inspire™ LED Fixture
United States, September 22, 2021 – For over 40 years, Harvest Church, located in Riverside, CA has been committed to helping the community learn and grow in their faith. Looking to modernize its space, Harvest Church decided it was time to complete a beautification project, including painting, seating, carpet, pew upgrades, new audio, as well as new lighting.
The old lighting infrastructure was using dimming incandescent bulbs for house lighting. To modernize the space the church was looking for LED replacement lighting that was bright, and capable of color changing.
E2i Design specializes in working with Churches and Ministries. Working with their longstanding client, Harvest Church, E2i designed, supplied, and installed a modern lighting design using the Chroma-Q® LED Inspire™ family of fixtures.
"When it comes to house lighting, Chroma-Q® is the brand we reach for," explains Josh Holowicki, Founder, E2i Design. "For house lighting in a Church, Chroma-Q® has the quality of light as a fixture and light output that we are looking for. It is significantly brighter, with cleaner whites and brighter colors. There are lens options and accessories that allow us to create the effects we are looking for. We think the Inspire fixture is esthetically pleasing with outstanding visual quality. The fixture is easily mounted and has an optional component of DMX power onboard or terminal strip data. Best of all, there is zero maintenance. In our opinion, Chroma-Q® is the number one brand for house lighting, and both Chroma-Q® and A.C. Lighting Inc. are phenomenal business partners for us."
Using a combination of Chroma-Q® Inspire™ and Inspire™ XT, E2i Design was able to meet many of the expectations of Christopher Eguizabal, Production Supervisor with Harvest Church. Using the Inspire™ LED fixture allows for an immersive environment that is rich in color. Evan Hamilton, CTO/Lead Engineer at E2i Design, uses the functionality of the fixture taking the creative aspects of the Inspire™ and using it to align and match the color on the stage. Balancing and color matching to digital and immersive backgrounds and video walls was important to the client. The Inspire™ allows a finite control to attain the exact look the designer is looking for. White lighting is used during worship, singing, and the band, as well as for cleaning, maintenance, and while the congregation enters the church.
"Chroma-Q® Inspire™ house lights allow us to break down the barriers between the stage and the audience and create an immersive worship experience," states Evan Hamilton. "Harvest Church runs a theme for approximately 6 weeks and requires the house lighting to match the theme of each series. Chris was already very familiar with the Chroma-Q® brand and taught us a few tricks with programming the lighting rig to capture the effects desired."
"My team comes from a production background, and we were confident that we knew what we wanted when we brought E2i onboard," explains Christopher Eguizabal. They designed the lighting layout and installed the project for us. We are elated with the service and professionalism of E2i. They did an outstanding job on this project, keeping it on time and budget, even when faced with challenges and delays from other contractors."
Christopher's team uses the house lighting extensively throughout the service. They program a different scene for each song during the service. The color changes allow the design team to set the mood to reflect the song, theme, or moment.
"We are thrilled with the new lighting system. It is saving us a lot of money switching from halogen to LED lighting. Our consumption is down by 50%. The Inspire™ are brighter and we are using fewer fixtures. We are impressed with the quality of light and how even the light is, which is great for the camera. There is essentially no flickering, and if there is, we can manage it with the controller. What's cool is how we have individual control over each fixture, allowing us to change the color and to control the areas where the congregation is sitting to keep the service intimate and immersive."
---
Photo Credit: © Vitaly Munzuk
Follow us on:
---
Chroma-Q and all associated product names are recognised trademarks, for more information visit www.chroma-q.com/trademarks. The rights and ownership of all trademarks are recognised. Whilst every effort has been made to ensure that the information is correct, Chroma-Q accepts no liability for errors or omissions. Technical specifications and data are provided for guidance only. Because we constantly aim to improve our products, we reserve the right to amend or alter at any time and without prior notice, the specifications of any product. E&OE.
Editor's note:
Chroma-Q® have been designing lighting equipment since the mid 1990s, when they established a reputation for high product quality, innovation and reliability with hugely successful products such as the Original colour changer.
In 2004 Chroma-Q launched their first LED fixture, the Color Block DB4™ - a product so popular that it's still selling today in a newer incarnation with upgraded technologies.
Since then, Chroma-Q have a gained a reputation for introducing award-winning, premium LED lighting solutions which deliver the highest performance levels required by today's most demanding applications - including concerts & theatre shows, film & TV broadcasts, retail, leisure & museum installations, exhibitions & corporate hospitality events.
Chroma-Q have an equally impressive track record developing a range of lighting colour changers, effects, gobo rotators, and various control & data distribution products.
About E2i Design:
The people who are the driving force behind E2i Design are Christ followers first. We think there is no better way to honor our Creator than to help ministries use the tools of technology to impact their community. Each of us has real-world church experience… meaning we have all been on staff at a ministry and have, in some capacity, been responsible for the visual aspects of the live worship experience. The members of our team are not doing a job, we are fulfilling a calling! We also view YOU, our partners in ministry as members of our team as well. We know that the combination of our capabilities and our calling makes us the perfect fit for every ministry, no matter the size. There is no team more passionate and dedicated to "the Church" than ours. Our vision is simple – form partnerships with ministries so we can educate, empower, and inspire as we change the world…one church at a time!
About A.C. Lighting, Inc.
A.C. Lighting, Inc. is a value-added distributor of world-class lighting and associated rigging technologies for the theater, film, television, worship, exhibition, and commercial markets. A.C. Lighting Inc. a North American distributor for premier brands including Chroma-Q® LED lighting, Vista by Chroma-Q lighting and media control surfaces, PROLIGHTS high value and high-performance range of lighting, video and effects products, Luminex Networking Intelligence manufacturer of data distribution equipment, Manfrotto and Avenger: Professional Lighting Stands and Accessories, Follow-Me Remote Follow Spot Control Systems, LumenRadio wireless lighting controls, Jands StageCL and Prolyte staging and trussing.
For more information, please visit www.aclighting.com or call 416.255.9494
Recent News