News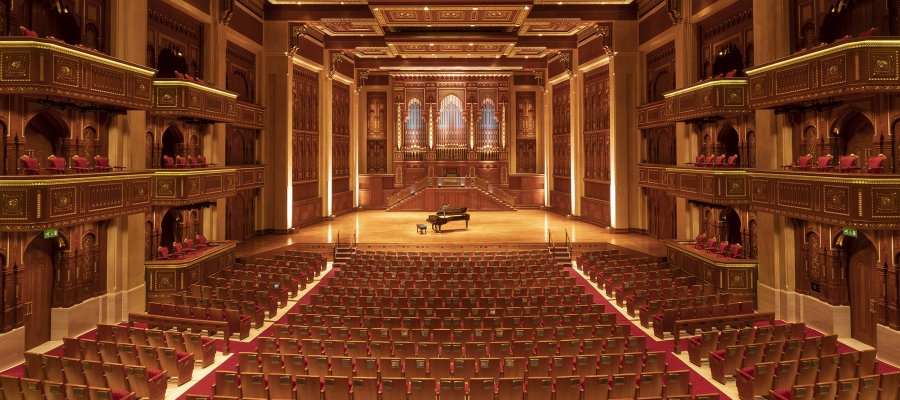 Royal Opera House Muscat chooses Color Force II by Chroma-Q
Oman – The Royal Opera House Muscat (ROHM) is one of the most opulent jewels in the world of classical music venues and a spectacular focal point for the region's performing arts. Recently, the ROHM has carried out an upgrade to its stage lighting system, including the addition of 26 Color Force II 48 LED battens by Chroma-Q, purchased from A.C. Entertainment Technologies (AC-ET).
Standing on Muscat's main thoroughfare, Sultan Qaboos Street, ROHM – commissioned by Sultan Qaboos bin Said himself – is the leading arts and culture centre in the Sultanate of Oman. This sumptuous and ornate building opened its doors on 12 October 2011, with a production of Turandot, conducted by Spanish tenor Placido Domingo. Today, showcasing a diverse programme of artistic, cultural and educational content, this stunning venue plays host to leading classical and operatic performances from around the globe – and its performance standards are accordingly high.
Discussing the choice of the Color Force II LED battens, the venue's Technical Department Manager, Donald Cox, said the venue's need was very much for a unit that could provide a decent spread of high-quality light, considering the short distance and the tight space that they would be used in.
"We liked the light output and smooth dimming curve of the Color Force IIs," he said. "The output is very even, with a good colour spectrum. They're a great replacement to our old tungsten lighting battens, with excellent colour mixing."
The Color Force II 48 is a multipurpose cyc, wash and effects lighting batten fixture which, thanks to advances in LED technology, delivers at least 50% more light output than its predecessor. It provides an extremely smooth and homogenous 13,500-lumen output, enough to easily cover a cyc up to 12m. Featuring Chroma-Q's factory calibration to guarantee superior fixture-to-fixture colour consistency, with improved saturates and pastels and a purer white, the unit offers tungsten-emulation theatrical grade dimming and a high CRI of 92, making it suitable for even the most critical stage lighting demands.
Housed in a robust, extruded aluminium body with internal power supply, the fixture's 16 x RGBA LED emitters provide pixel control down to 76mm increments. Individual units can be easily controlled via their touch-screen interface or DMX, and a quick-release lever provides optimal tilt adjustment of individual units. RDM capability is available through wired (or optional LumenRadio CRMX wireless) connection.
With a schedule of mostly touring performances and productions passing though the venue, the versatility and output characteristics of the Color Force II were a particular benefit to the team. Asked if the venue's lighting crew were impressed with the new additions,
Cox replied:
"Very much so – we will be looking at purchasing more in the future."
He added,
"AC-ET understood our requirements. We are very happy to have purchased the Color Force II and trust that they will give us many years of service."
---
Contact the company now to discuss how AC-ET can help you achieve your aspirations, on +44 (0)1494 446000 / sales@ac-et.com, or visit www.ac-et.com.
Keep up to date with the latest AC-ET news via their social network pages:
www.instagram.com/ac_ent_technologies/
www.facebook.com/acentertainmenttechnologies
Please note, in certain countries some of the products listed may not be available from A.C. Entertainment Technologies Ltd (AC-ET). The rights and ownership of all trademarks are recognised. Whilst every effort has been made to ensure that the information is correct, AC-ET accepts no liability for errors or omissions. Technical specifications and data are provided for guidance only. Because manufacturers constantly aim to improve their products, they reserve the right to amend or alter at any time and without prior notice, the specifications of any product. E&OE.
_____________________________________________________________________________________________________________
Editor's note:
A.C. Entertainment Technologies Ltd. has its origins dating back to the early 1970s, and today is a leading 'one-stop' international provider of cutting-edge entertainment technology products and solutions to dealers, distributors and end users in over 80 countries.
The company supplies professional lighting, audio, rigging, video and associated equipment from bases in High Wycombe and Leeds, to a wide range of sectors including Touring & Live Shows, Film & TV, Theatre, Education, Corporate, Events and Installation.
We pride ourselves on having a team of industry professionals with wide and varied experience, who can help advise on the best solution for each customer, project and budget. Our sister companies can be found around the world including in the USA, Canada, France, Ireland and Japan.
Recent News