News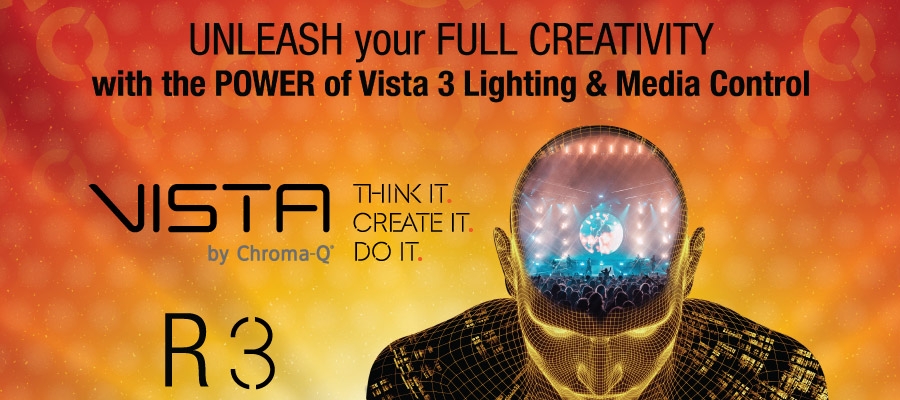 Worldwide - November 19, 2020 - Continuing with their pledge to provide brilliant solutions, Vista by Chroma-Q® is pleased to announce 'Release 3' (R3) of their crowd-pleasing Vista 3™ lighting and media control software.
Vista 3's intuitive yet powerful approach to lighting and media control has been embraced by major rental companies, production houses, and lighting designers around the world.
As part of Chroma-Q®'s ongoing commitment to increased functionality and enhanced capability, Vista 3 R3 contains over 150 improvements and new features.
Highlights include:
A new user-configurable, main application, a workspace that allows users to customise their playback and programming operational style to suit user preference, further smoothing workflow and providing additional flexibility.
A new FX engine feature allows the number of FX cycles to be defined, which delivers a fantastic tool for quickly creating complex "accents" or "bumps".
A new feature that allows Ethernet-based data output to be toggled on/off per protocol - a great feature for Festival use where there is a requirement to connect and configure the lighting network but not output data until the appropriate moment.
Other additions include; new inserted cuelist commands, custom lock screens, cuelist flash attack and decay times, multiple GUI improvements, and an updated factory library.
R3 has been designed to provide new and existing users with an even more intuitive user experience for creating and delivering fantastic looking shows.
For a complete list of new features and improvements, or to download the free demo software please visit www.vistabychromaq.com/download
Alternately, for more information please email vistasupport@chroma-q.com or visit
Follow us on:
www.facebook.com/chromaq.lighting
---
Chroma-Q and all associated product names are recognised trademarks, for more information visit www.chroma-q.com/trademarks. The rights and ownership of all trademarks are recognised. Whilst every effort has been made to ensure that the information is correct, Chroma-Q accepts no liability for errors or omissions. Technical specifications and data are provided for guidance only. Because we constantly aim to improve our products, we reserve the right to amend or alter at any time and without prior notice, the specifications of any product. E&OE.
---
Editor's note:
Chroma-Q® have been designing lighting equipment since the mid 1990s, when they established a reputation for high product quality, innovation and reliability with hugely successful products such as the Original colour changer.
In 2004 Chroma-Q launched their first LED fixture, the Color Block DB4™ - a product so popular that it's still selling today in a newer incarnation with upgraded technologies.
Since then, Chroma-Q have a gained a reputation for introducing award-winning, premium LED lighting solutions which deliver the highest performance levels required by today's most demanding applications - including concerts & theatre shows, film & TV broadcasts, retail, leisure & museum installations, exhibitions & corporate hospitality events.
Chroma-Q have an equally impressive track record developing a range of lighting colour changers, effects, gobo rotators, and various control & data distribution products.
In July 2018, Chroma-Q acquired the Jands Vista lighting & media control system - rebranded as Vista by Chroma-Q®. Continuing Jands' vision for their award-winning platform, Chroma-Q is introducing the all-new Vista 3 software, along with two new control surfaces.
Recent News