News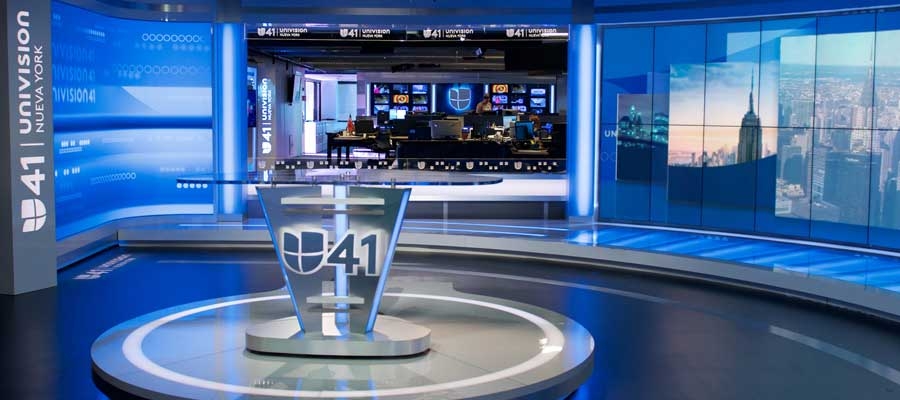 WXTV Univision Nueva York recently rebranded the TV station with a new set design. Matt Gordon, Lighting Designer and President of Eastern Lighting Design, designed the lighting to create an impact on the people he was highlighting on set.
The new set included; the main desk, video wall, the interview area, traffic and weather, touch screen and a chroma key area. Integrating many different lighting fixtures and brands, Matt has been able to provide a WOW factor for WXTV's new brand image.
WXTV services the Greater New York Area, delivering daily headlines in a flexible, dynamic space. Stepping away from traditional news methods the studio is embracing the use of a steadicam, which is not typically seen in a local news market. To have a set design that is flexible means that the lighting design must also be dynamic and flexible ensuring that the newscaster can be anywhere in the studio and can be filmed in any direction. For this reason, the lighting needed to make an impact.
Matt Gordon wanted the fixtures lighting the anchors and news casters to provide broad fields of light without contaminating the background. The biggest challenge Matt faced was the height of the grid. The ceilings were low requiring a compact fixture that could provide the same output and beam spread as a larger soft light. Chroma-Q®'s Studio Force II™ fixture was the ideal light.
"I use these fixtures in most of the studios I design because they provide a nice even field of soft light." remarked Matt Gordon. "This fixture is compact while providing a soft light that is adjustable to meet the surrounding conditions. If the newscaster is near a window, we can adjust the Studio Force II™ to match the dominant light source."
"What's really cool about the Studio Force II™, is that it provides the ability to dial in a specific color temperature." explains Matt. "This was an important feature for the WXTV set. I didn't want to be fixed to 3200k, and wanted the ability for the studio to use daylight lighting in the future."
Adding the barndoor accessories to the fixture allows the light to be focused and not leak into areas it's not wanted, while the border lens creates a wider beam in both directions, really allowing control and focus for the light.
"WXTV is so pleased with the launch of this cutting-edge studio." explains Matt. "The new set and lighting design create the impact and rebranding that they were looking for."
Chroma-Q products were supplied to Eastern Lighting Design by Barbizon Lighting and A.C. Lighting Inc. "I am always amazed by the level of service from both Barbizon and A.C. Lighting Inc. They are always attentive to our needs and quick to resolve any questions we may have." notes Matt.
Products Used:
• Studio Force II™ 12" with Barndoor and Border Lens accessories
---
Photo Credit: Matt Gordon
Chroma-Q and all associated product names are recognised trademarks, for more information visit www.chroma-q.com/trademarks. The rights and ownership of all trademarks are recognised. Whilst every effort has been made to ensure that the information is correct, Chroma-Q accepts no liability for errors or omissions. Technical specifications and data are provided for guidance only. Because we constantly aim to improve our products, we reserve the right to amend or alter at any time and without prior notice, the specifications of any product. E&OE.
About Chroma-Q
Chroma-Q® has been designing lighting equipment since the mid 1990s, when they established a reputation for high product quality, innovation and reliability with hugely successful products such as the Original colour changer.
In 2004 Chroma-Q launched their first LED fixture, the Color Block DB4™ - a product so popular that it's still selling today in a newer incarnation with upgraded technologies.
Since then, Chroma-Q have a gained a reputation for introducing award-winning, premium LED lighting solutions which deliver the highest performance levels required by today's most demanding applications - including concerts & theatre shows, film & TV broadcasts, retail, leisure & museum installations, exhibitions & corporate hospitality events.
Chroma-Q have an equally impressive track record developing a range of lighting colour changers, effects, gobo rotators, and various control & data distribution products.
About A.C. Lighting, Inc.
A.C. Lighting, Inc. is a value-added distributor of world-class lighting, associated rigging and video technologies for the theater, film, television, worship, exhibition and commercial markets. A.C. Lighting Inc. is the exclusive North American distributor for premiere brands including Chroma-Q®LED lighting, Vista by Chroma-Q lighting and media control, Follow-Me remote follow-spot control, LumenRadio wireless lighting controls, ProLights high value and high-performance range of lighting and effects product, Jands StageCL, and Prolyte staging and trussing.
For more information, please visit www.aclighting.com or call 416.255.9494
About Eastern Lighting Design
Eastern lighting design is a leading international design firm specializing in broadcast, location, and special events lighting.
We believe in a fully collaborative process and will work closely with production designers, producers, and directors to ensure that the lighting meshes seamlessly with the rest of the environment.
With a keen eye on the latest technology and industry trends we are confident that we can create the perfect look to help tell your story or promote your brand.
About Matt Gordon
Matt Gordon is a New York based lighting designer who specializes in broadcast and special event lighting. He likes to stay on the cutting edge of technology in order to bring the freshest ideas and aesthetic to his clients' projects. He's worked as a designer, lighting director, and associate designer on some of the most watched television shows in the United States and around the world.
About Barbizon
Barbizon, in business since 1947, is the one-stop source for sales, service, installation and integration of lighting equipment and accessories for the Performing Arts, Themed Environments, Live Productions, Film and Television.
We have more than 20,000 products in stocking locations across the world and we represent hundreds of manufacturers. We have a vast inventory of virtually anything you could need for lighting and rigging. No one carries more products, or can get them to you faster.
Recent News