News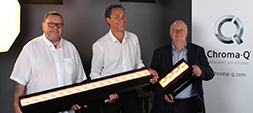 UK - A.C. Entertainment Technologies Ltd. (AC-ET) is delighted to announce that well known industry face, Steve Warren is now working in partnership with the company to develop sales of Chroma-Q's award-winning lighting fixtures range, as the brand's exclusive dealer for the UK & Ireland.
This partnership follows Steve's new company, Lighting Distribution Consulting Ltd, recently being appointed by Chroma-Q® to assist the development of its international sales and distribution channels outside of North America.

AC-ET will undoubtedly benefit from Steve's wealth of industry experience, with a particular focus on raising awareness of the product range amongst UK lighting designers and other users in the touring & live events sector, as well as other major entertainment markets.
The latest generation of Chroma-Q LED products have won multiple awards and garnered much praise from users for their high performance. These include the new Color Force II™colour-mixing LED cyc and wash light, the Inspire™ colour-mixing LED house light, and the Space Force™ variable white LED soft light.
For Chroma-Q UK & Ireland sales enquiries, please contact AC-ET on +44 (0)1494 446000 or email sales@ac-et.com. Alternatively, contact Steve Warren on +44 (0) 7802 980 608 or email: steve@chroma-q.com.
Or for more information about Chroma-Q, visit www.chroma-q.com.
Steve Warren Profiled in Lighting & Sound America
In the November issue of Lighting & Sound America, Steve Warren is featured in the magazine's regular 'People Worth Knowing' column. To read the article, please click on the link below:
www.lightingandsoundamerica.com/reprint/SteveWarren.pdf
To view the full digital issue of the magazine, click below (you must be registered to view digital issues of LSA):
http://subscriber.pagesuite-professional.co.uk/subscribe.aspx?source=4&eid=52afec88-b774-456f-aaa8-e2fa10ba0cf6
This article is reproduced courtesy of Lighting&Sound America / writer David Barbour.
Color Force II patents pending.
---
Chroma-Q and all associated product names are recognized trademarks, for more information visit www.chroma-q.com/trademarks. The rights and ownership of all trademarks are recognized. Whilst every effort has been made to ensure that the information is correct, Chroma-Q accepts no liability for errors or omissions. Technical specifications and data are provided for guidance only. Because we constantly aim to improve our products, we reserve the right to amend or alter at any time and without prior notice, the specifications of any product. E&OE.
Recent News