News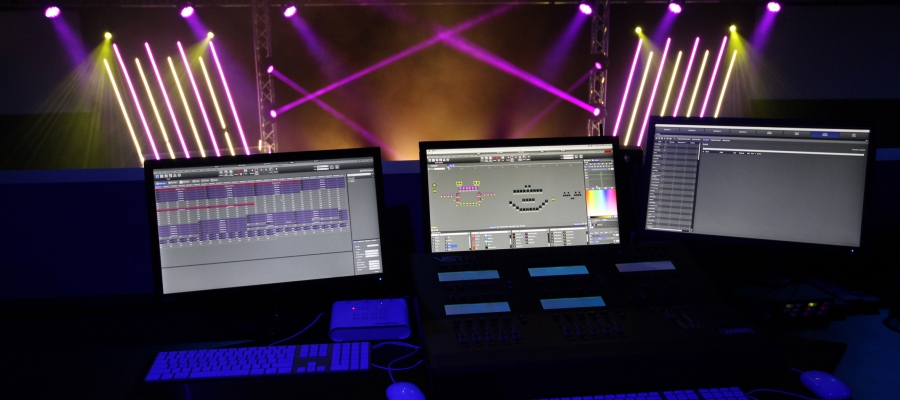 North America - BridgePoint Church in St. Petersburg, Florida has set the goal of reaching the entire St. Petersburg peninsula by planting ten campuses over ten years. To achieve this, BridgePoint needs to be relevant to the community and fully enable their volunteers. Jands Vista lighting control systems and Chroma-Q Inspire house lighting, recommended and installed by Pendley Productions (based in Cumming, Georgia) – and supplied by A.C. Lighting Inc. – are playing a role in achieving this goal.
Jands Vista
Ensuring that volunteers are well equipped to work in any of their production spaces is a priority to BridgePoint. "We wanted to equip our spaces with the same control system, to have consistency with lighting," states Michael McBride, lighting associate at BridgePoint. "We wanted to be able to start small, but build upon the lighting system as we grow. But we also wanted a system that is easy for volunteers to learn and operate - we want to focus on the volunteers, not on the gear." Vista was the ideal system to meet these goals.
A Vista S3 system is installed in their main auditorium controlling five universes of DMX over streaming ACN. A Vista S1 controls the lighting in their student ministries space, and a Vista M1 powers the ministry space for the older children's ministry. Their younger children's ministry space, having very modest lighting control needs, features a Jands Stage CL console for its simplicity and ease of use. And their recently opened downtown campus uses a Vista S1 as well. "Jands just makes it so easy," comments Michael. "The Vista software is the same across all their models, so once a volunteer learns Vista in one venue, they know how to use it in all of our venues."
Chroma-Q Inspire
As part of being relevant, BridgePoint is concerned about creating the right atmosphere for their services and events. "This is very important to our pastor," says Michael. "He wants to make sure the room feels right for the mood being created. The Chroma-Q® Inspire™ fixtures allow us to use colors that correspond with what's happening in the service at that moment. And Inspire didn't cost much more than the basic commercial LED lighting we had been considering. So, it just made sense: the versatility to be able to change the mood of the room with a click of a button is wonderful."
"We have Inspire fixtures in both our main auditorium and the youth auditorium," Michael continues. "The youth use it as part of the theatrical lighting looks, with color effects running and even strobing the lights to the beat of the music. However, the same lights that are making this space the highest energy room in the building on Wednesday night are the same lights used on Tuesday and Thursday to host the women's bible study. House lighting that can be controlled as individual fixtures can make that large room feel smaller by limiting how much of the room you light. The best feature of Inspire is the versatility you gain without the need for a lot of expensive wiring."
A.C. Lighting Inc. is the exclusive North American distributor for the Jands Vista and Chroma-Q product ranges. Visit their booth (2252) at LDI 2016, October 21st – 23rd, Las Vegas, USA, to get your personal demonstration of these and other lighting innovations.
For more information on A.C. Lighting Inc., please call (416) 255 9494, email northamerica@aclighting.com or visit www.aclighting.com.
Keep up to date with the latest A.C. Lighting Inc. news via their website and twitter page:
twitter.com/ACLighting_Inc
www.facebook.com/aclightinginc
---
Chroma-Q and all associated product names are recognized trademarks, for more information visit www.chroma-q.com/trademarks. The rights and ownership of all trademarks are recognized. Whilst every effort has been made to ensure that the information is correct, Chroma-Q accepts no liability for errors or omissions. Technical specifications and data are provided for guidance only. Because we constantly aim to improve our products, we reserve the right to amend or alter at any time and without prior notice, the specifications of any product. E&OE.
Recent News