News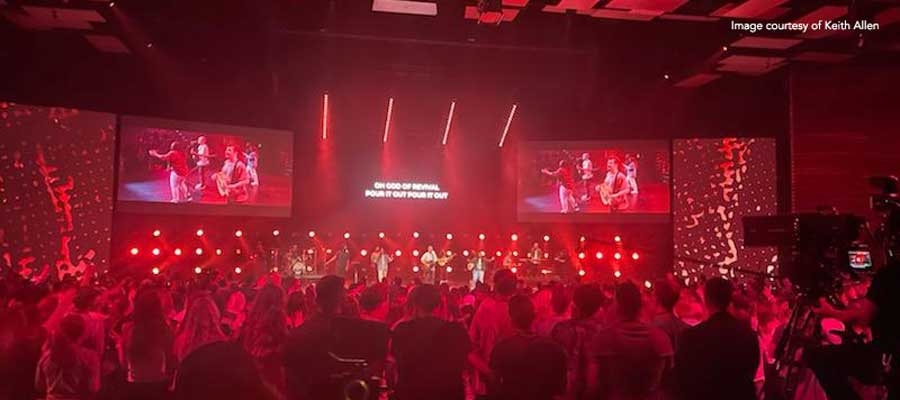 Vista by Chroma-Q® provided a versatile solution for controlling lighting
Dallas Texas, USA - Watermark Church in Dallas hosted The Porch's Awaken Conference during the labor day weekend, with over 4,000 attendees. It was the ideal location for this event, as it had a perfect setup where young adults could immerse themselves in the events. The event was held in many rooms and outside of the church, and required a large auditorium seating over 4,000 people. Watermark Church allowed Awaken to be the cutting-edge party atmosphere young adults can relate to.
Awaken is a Christian conference aimed at young adults to help them find and deepen their faith. Awaken needed to be fun and relevant to young adults while providing the audience with events and content they could get excited about.
To create a party atmosphere and build excitement, Watermark Church contacted Keith Allen of KW Allen Productions to set the tone of the event through lighting.
To create the full effect for the event, and to run the lighting rig during the event, KW Allen Productions relied on Chroma-Q®, Vista by Chroma-Q®, and Luminex products, all supplied by A.C. Lighting Inc. Vista was the main focus of this project. Vista allowed KW Allen Productions to do everything they need to do, seamlessly. All the fixture profiles were available for easy programming. The software was loaded on a laptop allowing them to move from room to room or even outdoors during programming, providing incredible versatility and time savings.
"In the atrium, we used Chroma-Q®'s Color Force II™ fixtures to uplight a curved copper wall.," explains Keith. "Using the Vista 3 software, we had eight full universes running on Vista EX and Vista MV consoles. Vista 3 allowed us to communicate with all facets of the media server, wireless DMX, and networkable nodes, allowing us to operate the lighting both inside and outside from one position. Having eight full universes of communication between moving and static lighting fixtures, as well as the media server in multiple locations at one time was amazing."
"What I loved about Vista 3 was its flexibility. During programming, I was able to take a networkable node by Luminex and my laptop with Vista 3 on it outside to program the entire lighting rig saving me time. For me, this was a game-changer," states Keith.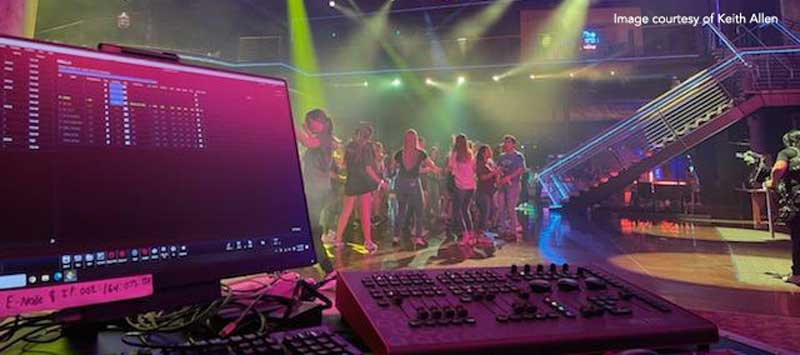 ---
About KW Allen Productions
KW Allen Production services the Corporate and House of Lighting Design Industry. KW Allen Productions is a customer service-driven company whose motto is "Feet Washing."
Chroma-Q and all associated product names are recognised trademarks, for more information visit www.chroma-q.com/trademarks. The rights and ownership of all trademarks are recognised. Whilst every effort has been made to ensure that the information is correct, Chroma-Q accepts no liability for errors or omissions. Technical specifications and data are provided for guidance only. Because we constantly aim to improve our products, we reserve the right to amend or alter at any time and without prior notice, the specifications of any product. E&OE.
About Chroma-Q
Chroma-Q® has been designing lighting equipment since the mid 1990s, when they established a reputation for high product quality, innovation and reliability with hugely successful products such as the Original colour changer.
In 2004 Chroma-Q launched their first LED fixture, the Color Block DB4™ - a product so popular that it's still selling today in a newer incarnation with upgraded technologies.
Since then, Chroma-Q have a gained a reputation for introducing award-winning, premium LED lighting solutions which deliver the highest performance levels required by today's most demanding applications - including concerts & theatre shows, film & TV broadcasts, retail, leisure & museum installations, exhibitions & corporate hospitality events.
Chroma-Q have an equally impressive track record developing a range of lighting colour changers, effects, gobo rotators, and various control & data distribution products.
About A.C. Lighting, Inc.
A.C. Lighting, Inc. is a value-added distributor of world-class lighting and associated rigging technologies for the theater, film, television, worship, exhibition, and commercial markets. A.C. Lighting Inc. a North American distributor for premier brands including Chroma-Q® LED lighting, Vista by Chroma-Q lighting and media control surfaces, PROLIGHTS high value and high-performance range of lighting, video and effects products, Luminex Networking Intelligence manufacturer of data distribution equipment, Manfrotto and Avenger: Professional Lighting Stands and Accessories, Follow-Me Remote Follow Spot Control Systems, LumenRadio wireless lighting controls, Jands StageCL and Prolyte staging and trussing.
For more information, please visit www.aclighting.com or call 416.255.9494
Recent News