News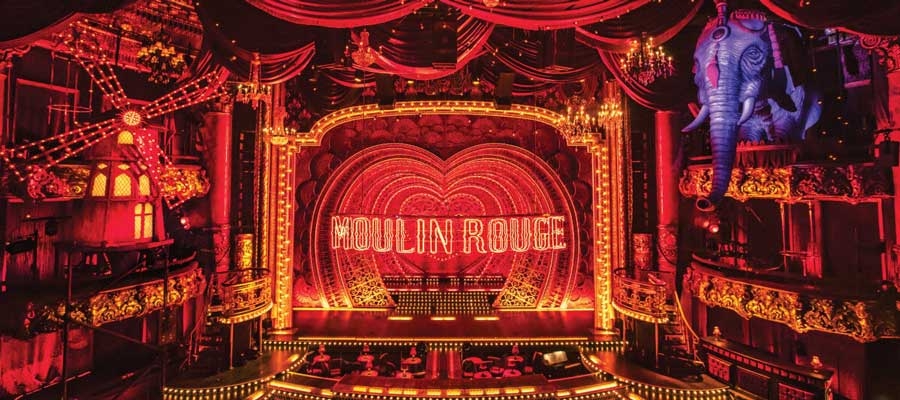 Feiner Lichttechnik supplies Moulin Rouge! The musical in Cologne with Chroma-Q Color Force II. This high-performance wash light is optimised for coloured light and can provide intensive, saturated coloured light without colour shadows. It uses homogenized LED technology and is very well-suited for illuminating opera slides.
Since its premiere in 2018, Moulin Rouge! has thrilled spectators. The musical has already attracted both audiences and critics in New York, London, Melbourne, and Sydney. Accompanied by a unique soundtrack from 160 years of pop history - from Jacques Offenbach to Lady Gaga - the musical sensation tells the legendary love story from Baz Luhrmann's Oscar-winning Hollywood classic: The young songwriter Christian comes to Paris and falls in love with Satine, the dazzling star of the Moulin Rouge. The road from concept to stage premiere was long — but successful. 10 years of preparation went into the Broadway production, which was the most awarded musical of 2020 with 10 Tony Awards, including the lighting design by Justin Townsend. Moulin Rouge! is now running at the Musical Dome in Cologne.
Justin Townsend received a Drama Desk Award and an Outer Critics Circle Award Honor for his work on Moulin Rouge! The Musical. His Broadway productions include Jagged Little Pill, The Humans (Tony Award nominee), American Psycho (Tony Award nominee), Fool for Love, Casa Valentina, and A Night with Janis Joplin Jackson. He is also an associate professor at Brooklyn College.
The Color Force II battens by Chroma-Q were specified in the lighting design. Chroma-Q has been manufacturing high-quality and innovative lighting equipment for a variety of demanding applications in TV and film studios, theatres and exhibitions, as well as for touring and events since the 90s. Chroma-Q's references range from theatres and opera houses such as the Royal Shakespeare Company (UK) and a number of musicals to international tours such as the Rolling Stones, the Killers, Elaine Paige or Rammstein and TV productions such as the Eurovision Song Contest.
The following lamps were used:
You can find more information about the lights used at: www.feiner-lichttechnik.de
Recent News