News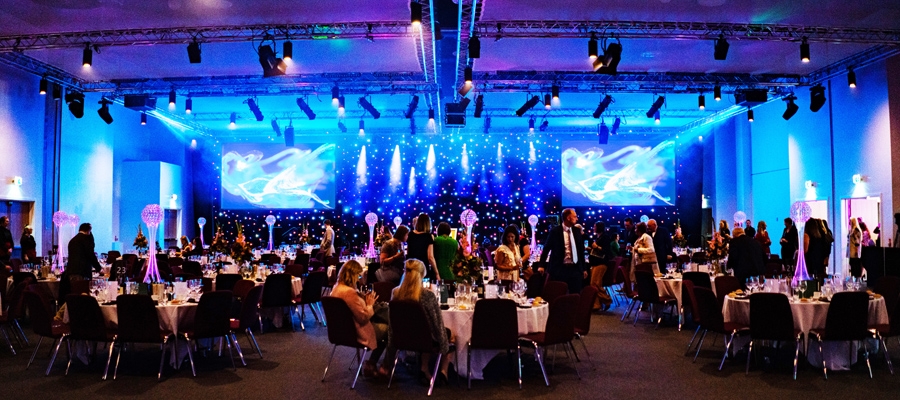 UK – Over 140 Chroma-Q® Inspire™ LED house lights and Color Force II™ LED cyc battens have been selected as part of the technical infrastructure for P&J Live at TECA – the new largest events venue in the North of Scotland.
Part of a £333 million development which is the biggest UK investment of its kind, P&J Live offers state-of-the-art, world-class conference & exhibition facilities. Located next to Aberdeen International Airport with excellent transport connections, and operated by ASM Global, the venue is expected to become a major events hub for the region.

Designed to provide clients with premier lighting & AV production services in-house, when it came to delivering a state-of-the-art technical infrastructure for the venue's flexible, multi-purpose Baker Hughes Exhibition and Conference Hub, it was essential to invest in the most up-to-date technologies available.

In addition, to be in keeping with the venue's eco-friendly sustainable energy centre onsite, the infrastructure's technical specification favoured more efficient LED-based light sources.

120 Chroma-Q Inspire RGBW 65° LED house lights were specified to provide high quality coloured theatrical and tuneable white house lighting, to enhance the ambience of events – including cabaret shows, banquets with up to 1,250 seated guests, and smaller events with seating and a dance floor.

With the flexible hall and conference suite spaces being re-configurable into multiple room layouts and sizes to accommodate different types and scales of event, the venue wanted the ability to change and move the Inspire lighting system accordingly.
To meet this requirement, Chroma-Q supplied the first 'movable' Inspire house lights system, featuring a DMX and PowerCON version of the fixture which mounts to truss via clamps – to enable the units to be moved to any part of the building to cater for events' requirements.

Steve Morrison, P&J Live's Deputy Operations Manager Technical, commented:
"The Inspires are just gorgeous. The colours are intense – for a themed evening we can create a wonderful warm ambience – not always an easy task in a utilitarian hall setting. Their quiet, fanless cooling is also great for meetings. They were an 'inspired' choice, much better than I imagined."

In addition, the venue has invested in over 20 Chroma-Q Color Force II 48™ 1.2m and Color Force II 12™ 0.3m, LED cyc & wash battens, to provide powerful colour-changing cyclorama and effects lighting during conference and live entertainment events.

Steve Morrison, P&J Live's Deputy Operations Manager Technical summarised:
"We are very impressed with the Chroma-Q lighting's quality and versatility. It is equally suited to all types of events, whether large dinner occasions with live entertainment on-stage, or conferences utilising coloured lighting to help achieve strong branding."
Photo copyright: DC Thomson.
Recent News