News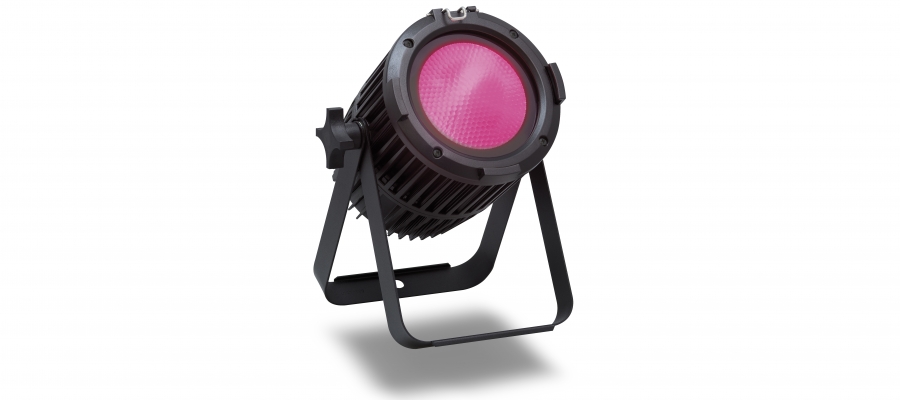 Leading Dubai-based AV and IT specialist, Almoe Group - which operates across the UAE, Qatar, Saudi Arabia and India - have invested in 100 Chroma-Q Color One 100 premium performance colour-changing LED PAR fixtures for their busy rental inventory.
Founded in 1994, the Almoe Group of Companies has various divisions focusing on distribution, integration and equipment rentals. They state that one of their core values is 'quality, and our passion for impeccable, stellar products and services'.
"We have been aware of the Chroma-Q line of LED PARs for some time, having seen them in action at various trade shows," says Almoe's Technical Director, Michael Fudge. "The purchase was made for our own rental stock."
"We moved to LED PARs a few years back, but until now have been relying on lower end products, so these units are a direct upgrade from our previous batch of 100 LED PARs," Michael continues. "We're really impressed with the neat form of the units, their uniformity of colour when looking directly into the beam, and their smooth dimming. We envisage supplying them for stage lighting for corporate events."
The new Color One 100™ LED PAR features an innovative fully homogenised beam, virtually eliminating the colour separation and shadows synonymous with LED lighting - delivering above PAR performance from ONE source.
The unit's optical design provides a smooth, uniform and defined 20° beam. This makes it ideal for use as a front and backlight with clean shadows, and an uplighter with a smooth, even beam.
An extensive RGBA colour-mixing palette delivers outstanding colour blend across the spectrum - including deep-cold blues, red-hot lava looks and super-soft pastels, as well as a complete range of whites. In addition, the high CRI of 93 ensures extremely accurate colour matching.
Theatrical grade dimming emulates the extremely smooth dimming curve of tungsten fixtures.
With convection cooling for silent operation, a highly energy-efficient LED light source, a versatile mounting yoke enabling the fixture to be floor, truss or wall mounted, and a choice of IP20 / IP65 models, the Color One 100 is suitable for numerous entertainment lighting applications.
Other innovative features include a simple to use Infra-Red remote control - enabling users to be up and running within minutes without the requirement of a lighting console - as well as compatibility with industry-standard 6.25" accessories such as egg crates, barndoors and top hats.
The Color One fixtures were supplied to Almoe by Chroma-Q® dealer, A.C. Entertainment Technologies (AC-ET) Ltd. Martin King, Regional Account Manager for the Middle East, Africa and Asia in the company's International Sales department, oversaw the deal.
"In terms of build quality, the Color One 100s are ideal for rental applications such as Almoe's needs, as they are constructed to a very high standard, in order to withstand the rigours of demanding touring environments," says Martin.
The Chroma-Q range of premium performance solutions is designed and built to exacting standards in North America, and has been adopted by many leading designers and specifiers for some of today's most demanding and prestigious lighting applications. As a result of this, the brand has received awards from several industry associations.
A diverse range of international customers have invested in the Color One 100 fixture, including the Connaught Theatre performance venue, ACK Productions rental company, and The Ballroom Hyndburn multi-purpose events venue in the UK; as well as Boston University in the USA.
Complementing the Color One 100 line-up is the new Studio One 100™ white LED PAR range, which is available in a choice of daylight, tungsten and variable white colour temperatures.
Get your demonstration of the Chroma-Q LED range at the following upcoming international tradeshows in January & February:
PLASA Focus Glasgow - Glasgow, UK, 20th - 21st January
Stand B1 (Dealer, A.C. Entertainment Technologies)
BSC Expo - Battersea, London, UK, 29th - 30th January
Stand 213, (Dealer, A.C. Entertainment Technologies)
Integrated Systems Europe - Amsterdam RAI, NL, 9th - 12th February
Stand 9-F104 (Dealer, A.C. Entertainment Technologies)
BVE 2016 - Excel, London, UK, 23rd - 25th February
Stand M45 (Dealer, A.C. Entertainment Technologies)
Alternatively, to arrange a demo or for details of the nearest Chroma-Q open house events, contact:
(International Sales Enquiries)
A.C. Entertainment Technologies Ltd.
Tel: +44 (0)1494 446000
international.sales@ac-et.com
(North American Sales Enquiries)
A.C. Lighting Inc.
Tel: +1 416 255 9494
northamerica@aclighting.com
Or for more information and to find your nearest reseller, visit www.chroma-q.com.
We're now social. Follow us on Facebook - www.facebook.com/chromaq.lighting - for the latest Chroma-Q breaking news, user application stories, competitions & other fun stuff.
---
Chroma-Q and all associated product names are recognized trademarks, for more information visit www.chroma-q.com/trademarks. The rights and ownership of all trademarks are recognized. Whilst every effort has been made to ensure that the information is correct, Chroma-Q accepts no liability for errors or omissions. Technical specifications and data are provided for guidance only. Because we constantly aim to improve our products, we reserve the right to amend or alter at any time and without prior notice, the specifications of any product. E&OE.
Recent News