News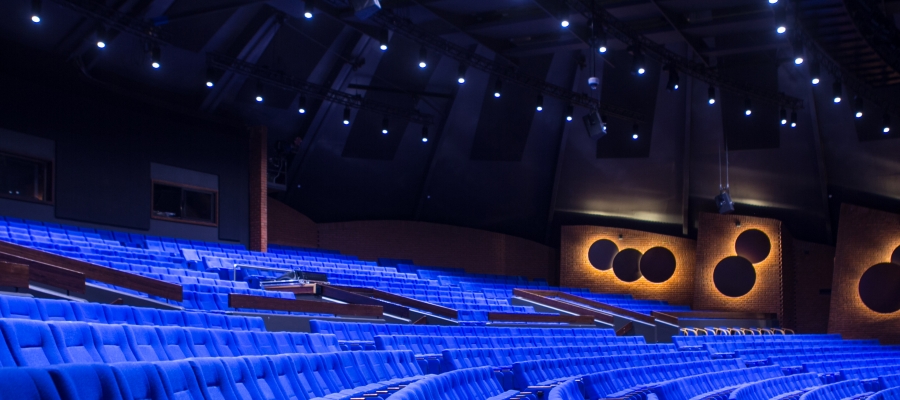 Norway - Chroma-Q® Inspire™ LED house lights have been installed at Stavanger Concert Hall's 'Kuppelhallen' performance space, to replace an old tungsten rig and allow the lighting team to immerse the entire room in vibrant colours.
Kuppelhallen has been a performance hall since 1982. Newly renovated, the 1,000-seater multi-purpose space is especially suited to rock concerts, revues, choir and band concerts.
Project manager for the lighting refurbishment was Sveinung Hove, together with technical manager Terje Eidsør of Stavanger-based Hove Lysdesign AS. Hove Lysdesign AS is a sales, installation and rental company, that was established by Sveinung Hove back in 1983.
"We've been working with Stavanger Concert Hall for more than 20 years, and the team there trusts us to deliver the right lighting solutions," says Terje. "They were experiencing problems linked with an old tungsten rig, such as high power consumption, limited lamp lifetimes and regular replacement of the lamps, so we recommended the Chroma-Q Inspire LED solution, which we'd seen at Prolight + Sound in Frankfurt."
Terje and his team installed a motorised, curved truss construction that follows the rows of seating, to hang the sixty Inspire fixtures.
"The Inspire house lights more than fit the brief from the client, especially because of the RGBW colour mixing, which adds the possibility to change the colour of the whole venue or just in particular areas of it," Terje continues.
Nils Foss, who is the lighting designer at the Stavanger Concert Hall, comments: "The Inspires are all located as downlights over the audience, and we use top hats so they won't spill any light on the stage. We use different colours for different shows, and the clients love the fact that you can wash the entire hall in colours. In addition, we can now see the hall much better - for conferences we have much better reading lights than with the old tungsten lights, even when they're dimmed."
Providing a range of beautiful whites, soft pastels and bold saturates all from a single fixture, the Inspire's fully homogenised lens offers a choice of stunning mixed colours, with no unsightly colour separation shadows.
"We were afraid that the white lighting would be a colder colour when going from tungsten to LED, but we were happy to be wrong," Nils continues. "The warmth of the light that's outputted from the Inspires is great, they are easy to control, offer an even output with great colours, and produce no discernible noise in this hall. We hope to see more Inspires added in our other performance spaces in the near future!"
By incorporating industry standard DMX-512 control, the Inspire and Inspire Mini™ range is able to integrate seamlessly with an existing stage lighting infrastructure and can be controlled by any DMX-supported lighting console, to provide seamless lighting from stage to audience.
"If we have more clients in need of house lights or similar, we are in no doubt as to what we are going to recommend - the Inspires!" Terje concludes.
The Chroma-Q Inspire fixtures were supplied to Hove Lysdesign AS by Chroma-Q dealer, A.C. Entertainment Technologies (AC-ET) Ltd.
Other venues investing in the Chroma-Q Inspire house light include the Rondo theatre show restaurant in Sweden, the historic Pieterskerk and ICER innovation centre venues in Holland, and various Houses of Worship in North America.
The Chroma-Q range of premium performance solutions is designed and built to exacting standards in North America, and has been adopted by many leading designers and specifiers for some of today's most demanding and prestigious lighting applications. As a result of this, the brand has received awards from several industry associations.
Get your demonstration of the Chroma-Q range at the following upcoming tradeshow in June:
ABTT - London, UK, 24th - 25th June,
Stand A40 (Dealer, A.C. Entertainment Technologies)
Alternatively, to arrange a demo or for details of the nearest Chroma-Q open house events, contact:
(International Sales Enquiries)
A.C. Entertainment Technologies Ltd.
Tel: +44 (0)1494 446000
international.sales@ac-et.com
(North American Sales Enquiries)
A.C. Lighting Inc.
Tel: +1 416 255 9494
northamerica@aclighting.com
Or for more information and to find your nearest reseller, visit www.chroma-q.com.
We're now social. Follow us on Facebook - www.facebook.com/chromaq.lighting - for the latest Chroma-Q breaking news, user application stories, competitions & other fun stuff.
---
Chroma-Q and all associated product names are recognized trademarks, for more information visit www.chroma-q.com/trademarks. The rights and ownership of all trademarks are recognized. Whilst every effort has been made to ensure that the information is correct, Chroma-Q accepts no liability for errors or omissions. Technical specifications and data are provided for guidance only. Because we constantly aim to improve our products, we reserve the right to amend or alter at any time and without prior notice, the specifications of any product. E&OE.
Recent News