News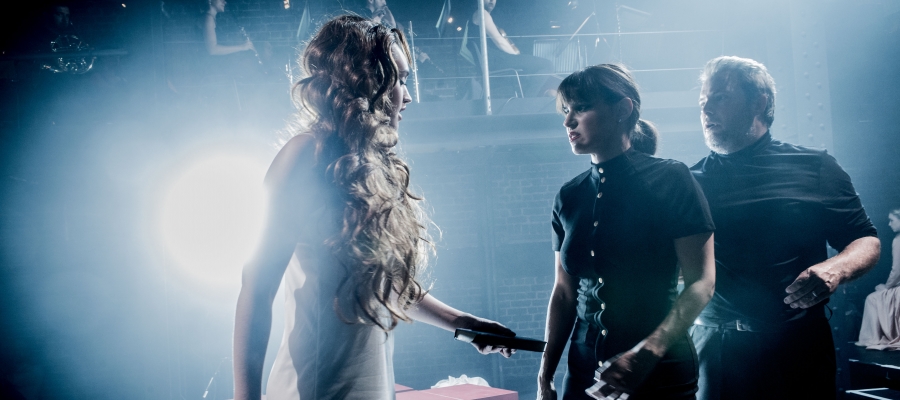 UK - The Chroma-Q® Space Force™ LED fixture has expanded its applications from the illumination of large studio environments to also include more subtle performances on the stage - recently providing atmospheric lighting for a classic opera production at the Arcola Theatre
Written by Benjamin Britten and first performed in 1946, The Rape of Lucretia is the first of several operas to be performed at the Arcola Theatre's Grimeborn Opera Festival. In its 11th year, the festival celebrates bold new versions of classic operas and brand new pieces from the most exciting up-and-coming composers, musicians and companies.
Robert Price, Lighting Director for the production, was visiting Chroma-Q's UK distributor, A.C. Entertainment Technologies for a demo of the new Vista 3 by Chroma-Q® lighting & media control software when he spotted the Space Force.
He commented: "I was surprised by the number of potential applications for the fixture, from an aesthetic role in the background, to flooding the auditorium with light.
"On this theatrical production, its beautifully smooth dimming allowed us to transition from cold to warm light seamlessly, really complementing the actors' skin tones."
The award-winning Space Force is more commonly found in Film and TV studios as a powerful LED space light or soft light source. However, its application in The Rape of Lucretia demonstrates the fixture's real creative versatility and potential.
"The flexibility Space Force offered regarding the different light temperatures makes it not only a perfect light, but also an interesting prop", commented Bettina John, Set Designer for the Opera. She continued: "The fact that performers can interact with the low-heat, enclosed fixture risk-free is extremely beneficial for the application of it to stage environments."
Director Julia Burbach also found the fixtures hugely advantageous to the production. She commented: "The Space Force fixtures have allowed us to make intense, clean, atmospheric lighting states and they have added to the design - not only as beautiful items to look at, but also for the part that they play in the narrative. Their extremely high quality of light has been essential to establishing a scene where voyeurism is invited. The light literally pulled you into the scene, like a moth to a bright source."
Get your demonstration of the Chroma-Q LED range at PLASA 2018, London, or visit www.chroma-q.com for a list of all upcoming international shows.
See highlights from the Chroma-Q range on the A.C. Entertainment Technologies stand (E30) at PLASA 2018, London, UK, 16th - 18th September.
Visit www.chroma-q.com for more information and a full list of Chroma-Q dealers.

Follow us on:
www.facebook.com/chromaq.lighting
www.instagram.com/chromaq

Photo Credit: Robert Workman
---
Chroma-Q and all associated product names are recognized trademarks, for more information visit www.chroma-q.com/trademarks. The rights and ownership of all trademarks are recognized. Whilst every effort has been made to ensure that the information is correct, Chroma-Q accepts no liability for errors or omissions. Technical specifications and data are provided for guidance only. Because we constantly aim to improve our products, we reserve the right to amend or alter at any time and without prior notice, the specifications of any product. E&OE.
Recent News