News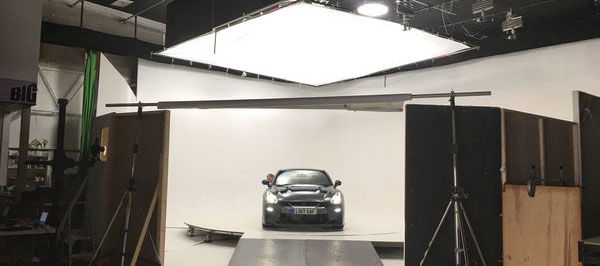 UK - The award-winning Chroma-Q Space Force LED space / soft light has been proving its versatility for Big Shed on several major TV and photographic projects.
Manchester-based Big Shed's 4,000 sq. ft. of professional studio facilities is the ideal space to shoot large sets, automotive photography, TV commercials and videos.

After being impressed by a demo, Big Shed's Justin Windle has sub-hired in the Space Force™ for several big-brand clients' shoots, including utilising six units to top-light a five sq. m, 360 degree revolving stage used to shoot stop-frame imagery of revolving cars. The Space Force's shallow profile allowed him to gain nearly a metre in elevation compared to the studio's old, conventional space light fixture.
Another project required emulating the even lighting of a large hospital floor. The six units were evenly spaced to light the 50 ft. wide set, and were hung, angled on their yokes, lit and ready to use in less than an hour. The fixtures were also used to light the set for a filming shoot by a major children's TV channel.
Justin commented: "In my experience, the advantages of the Space Force over conventional space lights are many. They're a fraction of the power consumption yet are very bright. They are much easier to hang and adjust, produce little or no heat output, and feature very simple white colour temperature adjustment. After using Space Force, I can't see why you would want to use traditional space lights anymore!"
See highlights from the Chroma-Q® range at ProLight & Sound 2018, Messe Frankfurt, Germany, 10th - 13th April 2018, on their stand (G51) in hall 3.0.
Visit www.chroma-q.com for more information and a full list of Chroma-Q dealers.
Follow us on: www.facebook.com/chromaq.lighting www.instagram.com/chromaq
Companies involved in the Space Force projects included:
Big Shed - www.big-shed.co.uk
360 imagery - www.360imagery.co.uk
Joey Catto - www.jobycatto.com
Renault - www.renaultretail.co.uk
ELP Manchester - www.elp.tv
Color Force II patents pending.
Chroma-Q and all associated product names are recognized trademarks, for more information visit www.chroma-q.com/trademarks. The rights and ownership of all trademarks are recognized. Whilst every effort has been made to ensure that the information is correct, Chroma-Q accepts no liability for errors or omissions. Technical specifications and data are provided for guidance only. Because we constantly aim to improve our products, we reserve the right to amend or alter at any time and without prior notice, the specifications of any product. E&OE.
Recent News