News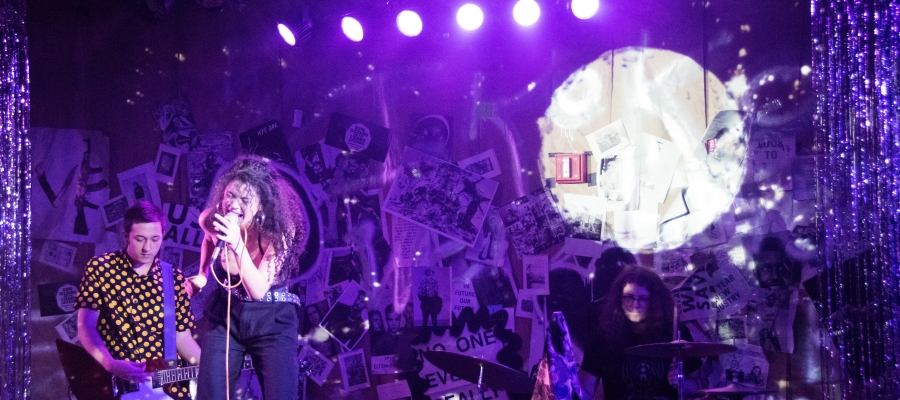 The Chroma-Q Color One 100X LED PAR fixture delivers powerful color that transforms the stage into an underground rock club, for the Boston University's production of KIL Claps Back during the first weekend of May, 2018. The play was presented by STAMP, a collection of young theatre artists, at Boston University College of Fine Arts School of Theatre and staged at the Jewels One Miller Studio Theatre 352.
KIL Claps Back is a play that takes place at a punk rock concert headlined by the Monica Bang (played by Kyra Tantao) and her band, at foreclosed Club íkọkọ. Later in the evening Drag Queen Cherri V. Coke (played by Brendan Gilhooly) takes the stage for a dance performance. In the scenes happening around and in the audience between these songs and drag numbers, a story about Latinx Culture, Queer, and Feminine Identity is unfolding. This very untraditional play uses rock and pop music as a driving force in the story, creating a world for Emi Mejí (played by Alice Kabia), a trickster Yoruban spirit to intervene, poke and push characters to their limits, and have them face their inner conflicts.

Austin Boyle, the lighting designer of the production, is receiving his undergraduate degree in the Bachelor of Fine Arts Lighting Design Program, headed by Associate Professor (Lighting Design), Mark Stanley - the resident lighting designer for New York City Ballet. Austin used the Color One 100X LED Par as the workhorse of his light plot for the show.

Boyle was invited onto this show by Kyra Tantao, who plays Monica Bang, Isabella Pelz, the playwright, and Línda Perla, the director, as a collaborative senior thesis project. The rest of the team consisted of Set Designer Emma Barron, Video Designer David Orlando, and Sound Designer Jacob Montgomery.
"Having the LED color changing technology available of the Color One 100X fixtures in my light plot gave me the ability to effectively change the space where the play takes place." explains Boyle. "I was looking for fixture that could go from a range of bright, saturate hues for lighting any songs, to softer, more subtle pastels to light the scenes of the play."
The Jewels One Miller Studio Theatre 352 is a small black box theater with limited power and hanging options. The LED fixtures became the most graceful solution to the challenges of the theatre, with their low wattage, yet bright and powerful light output. The theatre grid is 11' off the deck, so an additional cut of color frost was just enough to widen the 19° beam of the fixture to get an even wash across the main playing space.
"The play demanded more than 'flash and trash' lighting, which we associate often with rock and roll lighting design." Remarks Boyle. "It required a range of well-crafted cues from flashy, impressive effects, to dramatic, sculpted scenes. I was thoroughly impressed with the flexibility of the unit, and how it was able to accomplish both."
Another issue often faced with LED fixtures is poor dimming capabilities, however, the Color One 100X's theatrical grade dimming makes up for this issue.
"In a rig that was half conventional, half LED, I had a lot of concerns about how the dimming of the lights would compare to one another. I was pleasantly surprised that the dimming curve of the 100X's was nearly identical to the tungsten lights, and I didn't have to spend any extra time cueing around that."

"Ultimately, I have only had great things to say about the Color One 100X's. They performed extremely well and became a key component to the lighting design. I look forward to my next opportunity to use the fixture." adds Boyle.
The Color One 100X fixtures were supplied to Boston University for the production by Chroma-Q North American distributor, A.C. Lighting Inc.
The Chroma-Q range of premium performance solutions is designed and built to exacting standards in North America and has been adopted by many leading designers and specifiers for some of today's most demanding and prestigious lighting applications. As a result of this, the brand has received awards from several industry associations.

Products Used:
• Chroma-Q Color One 100X x 12
Follow us on:
www.facebook.com/chromaq.lighting
www.instagram.com/chromaq
---
Chroma-Q and all associated product names are recognized trademarks, for more information visit www.chroma-q.com/trademarks. The rights and ownership of all trademarks are recognized. Whilst every effort has been made to ensure that the information is correct, Chroma-Q accepts no liability for errors or omissions. Technical specifications and data are provided for guidance only. Because we constantly aim to improve our products, we reserve the right to amend or alter at any time and without prior notice, the specifications of any product. E&OE.
Recent News