News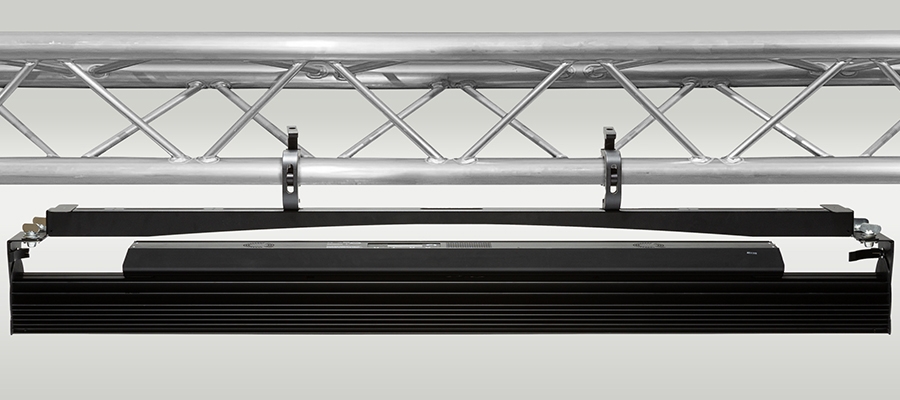 Worldwide – Chroma-Q are pleased to announce the launch of a new accessory - The Hang Force - designed for use with their Color Force II and Studio Force II (48" and 72" models).
Restrictions with where you can hang the fixture on the truss due to the crossbar-section is now a thing of the past, thanks to the Hang Force bracket which allows fixtures to be hung from trusses where the position of clamps might not align with the original fixture clamp position. A series of slots allow the clamps to be re-positioned to fit anywhere on the truss pipe.
For added flexibility and speedy mounting, the Hang Force uses rapid ¼ turn locks so it can quickly be installed and removed from the fixture. A centred carrying handle also means it can be moved easily.
The bracket also enables all the fixture sizes in the range (12", 48" and 72") to hang equally side-by-side when rigged on to the truss.
The Hang Force comes with the necessary hardware to upgrade existing fixtures for use with ¼ turn locks.
The Hang Force can also be used on the floor thanks to a set of plates to stabilise the whole assembly.
Chroma-Q's Global brand manager, Paul Pelletier commented: "We are excited to release the new Hang Force. We are always looking to develop new accessories that add additional versatility and flexibility to our products to enabling them to exceed the high levels of creativity required by our customers."
The new accessory is available now from your local Chroma-Q dealer.
Visit www.chroma-q.com for more information and a full list of Chroma-Q dealers.
Follow us on:
---
Chroma-Q and all associated product names are recognised trademarks, for more information visit www.chroma-q.com/trademarks. The rights and ownership of all trademarks are recognised. Whilst every effort has been made to ensure that the information is correct, Chroma-Q accepts no liability for errors or omissions. Technical specifications and data are provided for guidance only. Because we constantly aim to improve our products, we reserve the right to amend or alter at any time and without prior notice, the specifications of any product. E&OE.
Editor's note:
Chroma-Q® have been designing lighting equipment since the mid 1990s, when they established a reputation for high product quality, innovation and reliability with hugely successful products such as the Original colour changer.
In 2004 Chroma-Q launched their first LED fixture, the Color Block DB4™ - a product so popular that it's still selling today in a newer incarnation with upgraded technologies.
Since then, Chroma-Q have a gained a reputation for introducing award-winning, premium LED lighting solutions which deliver the highest performance levels required by today's most demanding applications - including concerts & theatre shows, film & TV broadcasts, retail, leisure & museum installations, exhibitions & corporate hospitality events.
Chroma-Q have an equally impressive track record developing a range of lighting colour changers, effects, gobo rotators, and various control & data distribution products.
Recent News