News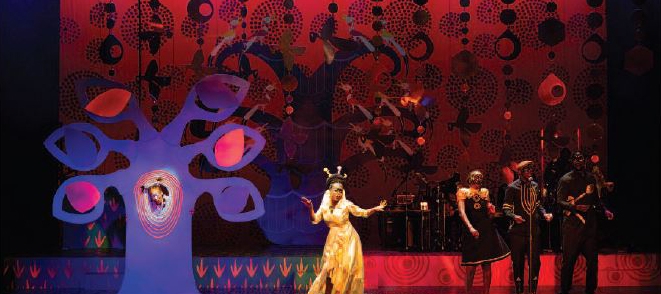 Lighting designer Herrick Goldman had a most unusual experience this summer and fall when he signed onto Tinga Tinga Tales—The Musical, a children's theatre production that opened in Nairobi, Kenya before traveling to The New Victory Theater in New York. The show, written and directed by Claudia Lloyd, is based on a hit animated television series that explores African folklore, with an emphasis on animals.
The designer notes that his New York rig was based on what he had in Nairobi, but featured more familiar brands. Rented from WorldStage, it included 12 Chroma-Q Color Force 100s for cyc lighting.
To read the article, please click here the link below: Lighting & Sound America November 2018
For more information on the Color Force II range, visit the product page.
---
This article is reproduced courtesy of Lighting & Sound America. Photos: Alexis Buatti-Ramos, courtesy of The New Victory Theater
To view the full digital issue of the magazine, click here (you must be registered to view digital issues of LSA):
Copyright Lighting&Sound America November 2018 http://www.lightingandsoundamerica.com/LSA.html
INDUSTRY NEWS: 30 • November 2018 • Lighting&Sound America
(images taken from the article)
---
Chroma-Q and all associated product names are recognized trademarks, for more information visit www.chroma-q.com/trademarks. The rights and ownership of all trademarks are recognized. Whilst every effort has been made to ensure that the information is correct, Chroma-Q accepts no liability for errors or omissions. Technical specifications and data are provided for guidance only. Because we constantly aim to improve our products, we reserve the right to amend or alter at any time and without prior notice, the specifications of any product. E&OE.
Recent News