News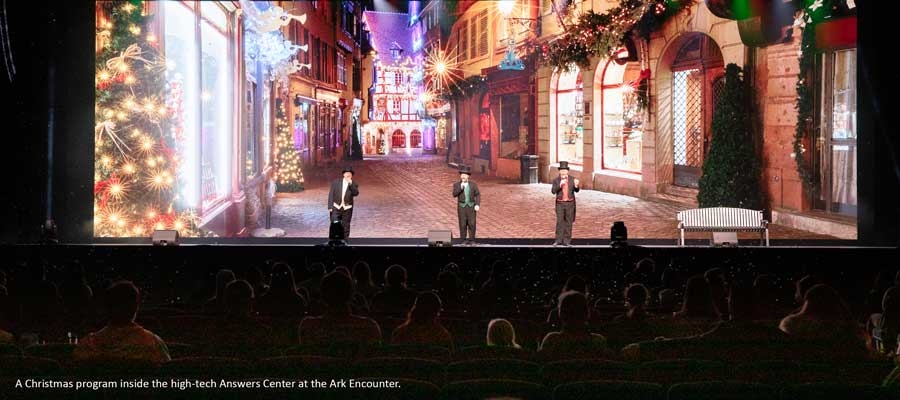 Clearwing Systems installs Chroma-Q Inspire XT House Lights in Answers in Genesis' Ark Encounter Answers Center.
WILLIAMSTOWN, KY, October 27, 2020 – In 2016, Answers in Genesis launched a multi-year project to bring the biblical account of Noah's Ark to reality in the rolling hills of Williamstown, Kentucky, south of Cincinnati. The Ark Encounter features a 510-foot-long replica of Noah's Ark with three decks of museum exhibits, videos, and interactive displays which teach visitors the lessons of Noah and the Ark. Within the theme park grounds is the Answers Center, a multi-purpose venue that serves as a welcoming center, gathering place, and auditorium. The 2,500 seat space hosts daily lectures, concerts, video presentations, and large national conferences.
In early 2017, Kurt Schnabel, Systems Design Engineer at Clearwing Systems Integration, began working with AiG to develop control systems and specify products to make the Answers Center a technical marvel with state-of-the-art equipment in lighting, audio, and video. He worked with Doug Nelson, the A/V Manager for both the Ark Encounter and its sister attraction, the Creation Museum. Nelson declared: "With the desire to make the 2,500-seat Answers Center an exciting and flexible venue for hosting many types of live events, the choice to go with bright, full-color changing, individually addressed house lights was very important to us."
Schnabel added: "With the vast number of different types of events that can be held in the Center, there needed to be flexibility in products as well as feature ranges that give the venue a wide variety of options."
Nelson noted: "Outside production teams that utilize our facility consistently rave about the auditorium, especially when they see what can be done with the 'atmosphere' of the room by the added house lighting effects."
When it came to house lights, Schnabel could only think of one product that would tick every box in the requirements list for the Answers Center: The Inspire XT™ series of House Lights from Chroma-Q®. Some of the key features that the Answers Center was requiring were color mixing house lights with a higher color rendering. The Inspire XT™ series filled each item and more. "The RGBW color mixing offers the Center a massive color range, from soft pastels to bold and super-saturated colors," explained Schnabel.
One of the aims of any large venue is to bring the experience on the stage out to the entire audience. The Answers Center's A/V team wanted to use the house lighting to extend the mood and feeling on the 100' wide stage and 22' high video wall to every person seated in the Center. To accomplish this, they used 183 Inspire XT™ fixtures hung roughly 30' in the air to provide ample illumination at floor level. "The house lights are tied into the stage lighting in order to bring the experience on the stage out to the entire audience. The large quantity of fixtures not only can immerse the audience in color but can even provide a low-resolution video experience over the attendees," noted Schnabel.
"In the event of a power failure, the Inspire line of House Lights has a built-in feature which allows selected fixtures to go to an emergency look when backup power is present. With the UL 924 listing and the amazing output of the Inspire XT™, only 20 units in the entire space were needed to be connected to the emergency transfer system," added Schnabel.
"We at Clearwing have been working with A.C. Lighting Inc. for years and on a number of projects," stated Schnabel. "On the Answers Center, we were able to hand off the drawings and illumination requirements to Keith Lewandowski at A.C. Lighting Inc. He and his team recommended placement, type, and the number of fixtures needed to fulfill the Center's requirements." He further noted: "Keith and A.C. Lighting have always been upfront and on time with deliveries. On large installations like the Answers Center, it is refreshing to know that we have a partner that understands both our installation requirements and the customer's aesthetic and functional needs."
Nelson added: "Since the completion of the Answers Center, we have also installed the Inspire Mini™ fixtures in our new planetarium inside the Creation Museum and are planning to install them in the lobby of our Virtual Reality Experience located at the Ark Encounter."
---
Chroma-Q and all associated product names are recognised trademarks, for more information visit www.chroma-q.com/trademarks. The rights and ownership of all trademarks are recognised. Whilst every effort has been made to ensure that the information is correct, Chroma-Q accepts no liability for errors or omissions. Technical specifications and data are provided for guidance only. Because we constantly aim to improve our products, we reserve the right to amend or alter at any time and without prior notice, the specifications of any product. E&OE.
About Chroma-Q
Chroma-Q® has been designing lighting equipment since the mid 1990s, when they established a reputation for high product quality, innovation and reliability with hugely successful products such as the Original colour changer.
In 2004 Chroma-Q launched their first LED fixture, the Color Block DB4™ - a product so popular that it's still selling today in a newer incarnation with upgraded technologies.
Since then, Chroma-Q have a gained a reputation for introducing award-winning, premium LED lighting solutions which deliver the highest performance levels required by today's most demanding applications - including concerts & theatre shows, film & TV broadcasts, retail, leisure & museum installations, exhibitions & corporate hospitality events.
Chroma-Q have an equally impressive track record developing a range of lighting colour changers, effects, gobo rotators, and various control & data distribution products.
About A.C. Lighting, Inc.
A.C. Lighting, Inc. is a value-added distributor of world-class lighting and associated rigging technologies for the theater, film, television, worship, exhibition, and commercial markets. A.C. Lighting Inc. is the North American distributor for premier brands including Chroma-Q®LED lighting, Vista by Chroma-Q lighting and media control surfaces, PROLIGHTS high value and high-performance range of lighting, video and effects products, Luminex Networking Intelligence manufacturer of data distribution equipment, Manfrotto and Avenger: Professional Lighting Stands and Accessories, Follow-Me Remote Follow Spot Control Systems, LumenRadio wireless lighting controls, Jands StageCL and Prolyte staging and trussing.
For more information, please visit www.aclighting.com or call 416.255.9494
Recent News