News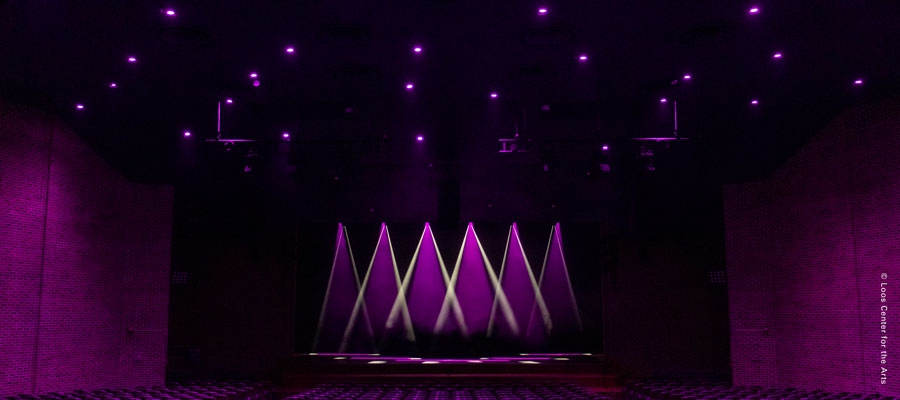 Woodstock, CT, USA, September 8, 2021 – The Woodstock Academy, located in Woodstock, CT, is an independent day and boarding school serving grades nine to twelve and postgraduates. Five years ago, The Woodstock Academy had the opportunity to purchase an additional campus, which included a 1,018 seat theater, atrium, lecture hall, and art gallery in the facility now known as Loos Center for the Arts. The campus acquisition included plans to completely renovate the backbone of the theater, atrium, lecture hall, and art gallery, including the lighting, electrical, rigging, and audio. Through a generous gift, the project came to life in mid-2019.
Eric Chalupka, Executive Director of Loos Center for the Arts, was tasked with managing the renovation for the arts center. The purpose of The Loos Center for the Arts renovation was to allow the venue to become a roadhouse for public shows and events, serve as a better-equipped rental facility, and grow the abilities of in-house productions and concerts. With renovations now complete, the facility provides a space for the larger community to participate in the arts, in a region where such is not always easily accessible.

Because the facility works with outside lighting designers and technicians, the system needed to be impressive, provide interactive and creative lighting design, while easy to operate. With this in mind, Eric immediately thought of using Chroma-Q® Color Force II™ fixtures and Inspire™ house lights. To complete the lighting requirements, Eric worked with Chris Souza, sales representative for A.C. Lighting Inc.
"I am a loyal Chroma-Q user, and have been using their products for years," comments Eric. "The Color Force & Inspire product lines consistently impress me with their bold output and reliability. When deciding on a lighting product that would be easy to use, or train a visiting Lighting Designer on, it was an easy choice for me."
The Color Force II fixtures are used as set lighting or side lighting, allowing the Lighting Designers to get creative with the set design. To add surprise effects and dazzle the audience, the Inspire house lights can assist in setting the tone of the event when the guest arrive, but also create a unique ambiance during the show changing the ceiling lighting colors, pixel mapping them, and making them an interactive part of the show.
"We can use the Color Force II fixtures in their traditional formats, as well as in unique compositions, such as mounted vertically on a ladder or pole using the pixel set feature. It truly is impressive, how flexible this lighting fixture is," explains Eric.
"Our fixture selection turned out to be the best solution for our facility," adds Eric. "We were able to have a few concerts before the shut-down, including touring artists, The Guess Who, and Marshall Tucker Band, Lenny White, and local artists Cold Train, Granite, & Roomful of Blues. We are expecting to announce our next season shortly, and can't wait to be back."
Photo Credit: © Loos Center for the Arts
Recent News