News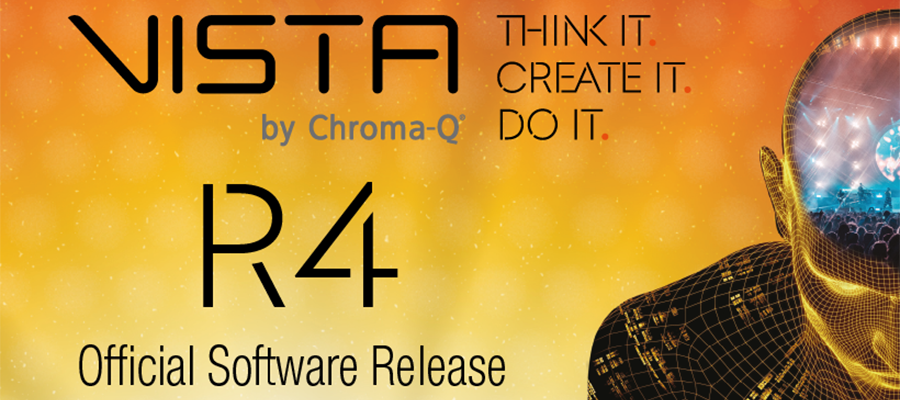 Vista 3 R4 contains 200+ improvements and new features
Chroma-Q®, a world-renowned brand of premium performance LED lighting solutions manufactured in North America, is pleased to announce the public 'Release 4' (R4) of their Vista 3™ lighting and media control software.
Vista 3's intuitive yet powerful approach to lighting and media control has been embraced by major rental companies, production houses, and lighting designers around the world.
As part of Chroma-Q®'s ongoing commitment to increased functionality and enhanced capability, Vista 3 R4 contains over 200 improvements and new features.
Some major highlights include:
Support for the Newtek NDI™ video protocol - Video content from any NDI™ source on the network can now be directly streamed into Vista's matrix pixel mapper, taking advantage of Vista's powerful pixel arrangements and 11+ color control, without the need for any third-party lighting data merges.
NDI™ sources can also be viewed directly within Vista in dedicated content preview windows. These could be from a media server, visualizer, or even live studio or stage camera.
Ableton™ Link support – Ableton™ Link is a technology that keeps devices in time over a local network. Link can be found in over 200 platforms across a range of products, including DJ Decks, band click tracks, media servers… and of course, Ableton™ Live. Vista is now able to synchronise chases or FX masters to Link ensuring that dynamic stage looks always stay perfectly in sync with the performance, requiring no further input from the lighting console operator, even if the performance increases or decreases tempo.
To learn of additional new functionality and improvements or to download the free demo software, please visit
Vista by Chroma-Q products are available through A.C. Entertainment Technologies (www.ac-et.com) in Europe, Africa, Asia, and in North America through A.C. Lighting Inc. (www.aclighting.com). Visit www.chroma-q.com for more information and to find your nearest Chroma-Q dealer.
Follow us on: www.facebook.com/chromaq.lighting.
---
Chroma-Q and all associated product names are recognised trademarks, for more information visit www.chroma-q.com/trademarks. The rights and ownership of all trademarks are recognised. Whilst every effort has been made to ensure that the information is correct, Chroma-Q accepts no liability for errors or omissions. Technical specifications and data are provided for guidance only. Because we constantly aim to improve our products, we reserve the right to amend or alter at any time and without prior notice, the specifications of any product. E&OE.
Editor's note:
Chroma-Q® have been designing lighting equipment for over 25 years, with a reputation for high product quality, innovation and reliability.
Today, LED based lighting products are the core of Chroma-Q's portfolio.
Chroma-Q have gained a reputation for introducing award-winning, premium LED lighting solutions which deliver the highest performance levels required by today's most demanding applications - including concerts & theatre shows, film & TV broadcasts, retail, leisure & museum installations, exhibitions & corporate hospitality events.
Recent News