Inspire Mini™ RGBW
Colour Changing & White LED House Lights. 3,000 lumens, typical ceiling height up to 15'
The new Chroma-Q® Inspire Mini™ LED house light is a powerful and compact, multi-purpose creative lighting tool that compliments the award-winning Inspire™ fixture. The Inspire Mini™ continues to utilise some of the innovative core technologies found in the incredibly popular Chroma®-Q Color Force™ range. The fixture has a wide 65 degree beam angle and features a shorter housing designed for venues with low ceilings or balconies. The Inspire Mini™ provides a choice of beautiful whites, soft pastels and bold saturates - all from one fixture. By incorporating industry standard DMX-512 control, the Inspire Mini is able to integrate seamlessly with an existing DMX infrastructure and can be controlled by any DMX supported lighting console. The Inspire Mini provides an excellent selection of stunning mixed colours and 'true' whites with no unsightly colour separation shadows. The Inspire Mini also features an energy-efficient LED design providing reduced maintenance and running costs.
Key Features
Super compact - ideal for low ceilings or balconies
Powerful - 3,010 lumens
Fully homogenised beam
Available in a black or white body
Beautiful whites, soft pastels and bold saturates - all from a single fixture
Adjustable 1,000K to 10,000K CCT
High CRI of 90
65 degree beam angle
Extremely smooth, uniform wash
Theatrical grade dimming
Ideal for house light replacements
Silent convection cooled ---no fans
Multi-purpose ---suitable for a wide range of applications
Built-in power supply
Low energy consumption - 70 watts
Available in either terminal strip or plug-in configurations
Request A Demo
---
Inspire™ Mini Ordering Options
Multi-Purpose
Fusing entertainment, theatrical and architectural lighting capabilities, the Inspire Mini™ has the ability to seamlessly transform the look and feel of a performance venue, themed retail space or house of worship.
A Truly Creative Tool
Whether used in entertainment, architectural, or house of worship contexts, the Inspire Mini™ provides designers with a tool to create environments that seamlessly transcend the physical barrier between the stage and audience through the creative use of light and colour. With Inspire Mini, effects can range from a subtle shift in colour temperature to bold and dynamic colour changes.
Colour
The Inspire Mini™ utilises Chroma-Q® ColorSure™ technology for enhanced consistency when using multiple fixtures. With RGBW colour mixing providing a high CRI of 90, the Inspire can achieve extremely accurate colour matching.
DMX-512 Control
Using the Inspire Mini™ house light's DMX-512 input, it is now possible to seamlessly map ceiling lighting, introducing gorgeous soft colour effects and warm amber looks to engage and captivate the room.
Energy Efficiency
With an incredibly low power consumption of 70W, the Inspire Mini™ will show you a significant return on your investment with its high energy efficiency.
Camera Friendly
With an adjustable frequency from 600 – 4,800Hz, the Inspire Mini™ house light is extremely camera-friendly and can be adjusted to eliminate camera flicker and lens glare.
Optics & Dimming
The Inspire Mini™ has a custom optical design that provides a smooth, uniform output, matched by theatrical grade dimming.
Product Code
CHINMINIHLRGBWA
CHINMINIHLRGBWAW
CHINMINIHLRGBWE
CHINMINIHLRGBWEW
Net Dimensions (WxHxD)
181mm x 251mm x 181mm / 7" x 10" x 7"
Net Weight
3kgs / 6.7lbs
Shipping Dimensions (WxHxD)
310mm x 390mm x 310mm / 12.25" x 15.5" x 12.25"
Shipping Weight
4.5kgs / 10lbs
Power Supply
Built-in
Power Input Rating
100-240V AC 50-60Hz 120VA
Power Factor
0.9
Power Consumption
70W
Typical Power & Current
Measurements done with all LEDs at maximum intensity. Measurements made at nominal voltage. Allow for a deviation of +/- 10%.
Power Connectors In/Out
Addressing versions uses PowerCon for input only, other versions use terminal strip
Data Connector In/Out
Addressing version uses XLR 5-pin, other versions use terminal strips
Operating Temperature
0°C to 40°C
Control Protocol
ANSI E1.11 USITT DMX-512A
Cooling System
Convection
Construction
Anodised aluminium extrusion
Colour
Black / White
Built-In Hardware
Mounting bracket (12.7mm / 1/2" diameter hole)
IP Rating
IP20
Approvals
EN55022 & EN55024:2010, ICES-003:2012, FCC Part 15 Subpart B:2012, CSA C22.2 No. 160-M1983 (R2013), UL 1573:2003 (R2014), IEC 60598-2-17
LED Engines
1
LEDs Per Engine
Combination of Red, Green, Blue and White
Control Modes
7 channels fxHSI,
5 channels sRGBW,
3 channels HSI,
4 channels RGBW,
1 channel Look sel,
Mastr StndAlon,
Slave StndAlon
Dimming Curve
Theatrical
Variable Effects Engine
Yes
Effects Parameters
Colour speed, range, step, intensity effects
Hot Lumen Output
3,010
Optics
Fully homogenised
Beam Angle
65° approx
Beam Distribution
Symmetrical direct illumination
CCT
Adjustable 1,000 - 10,000K (preliminary)
Colour Gamut
Performance enhanced
CRI
90
Lamp Life
L70 at 50,000 hours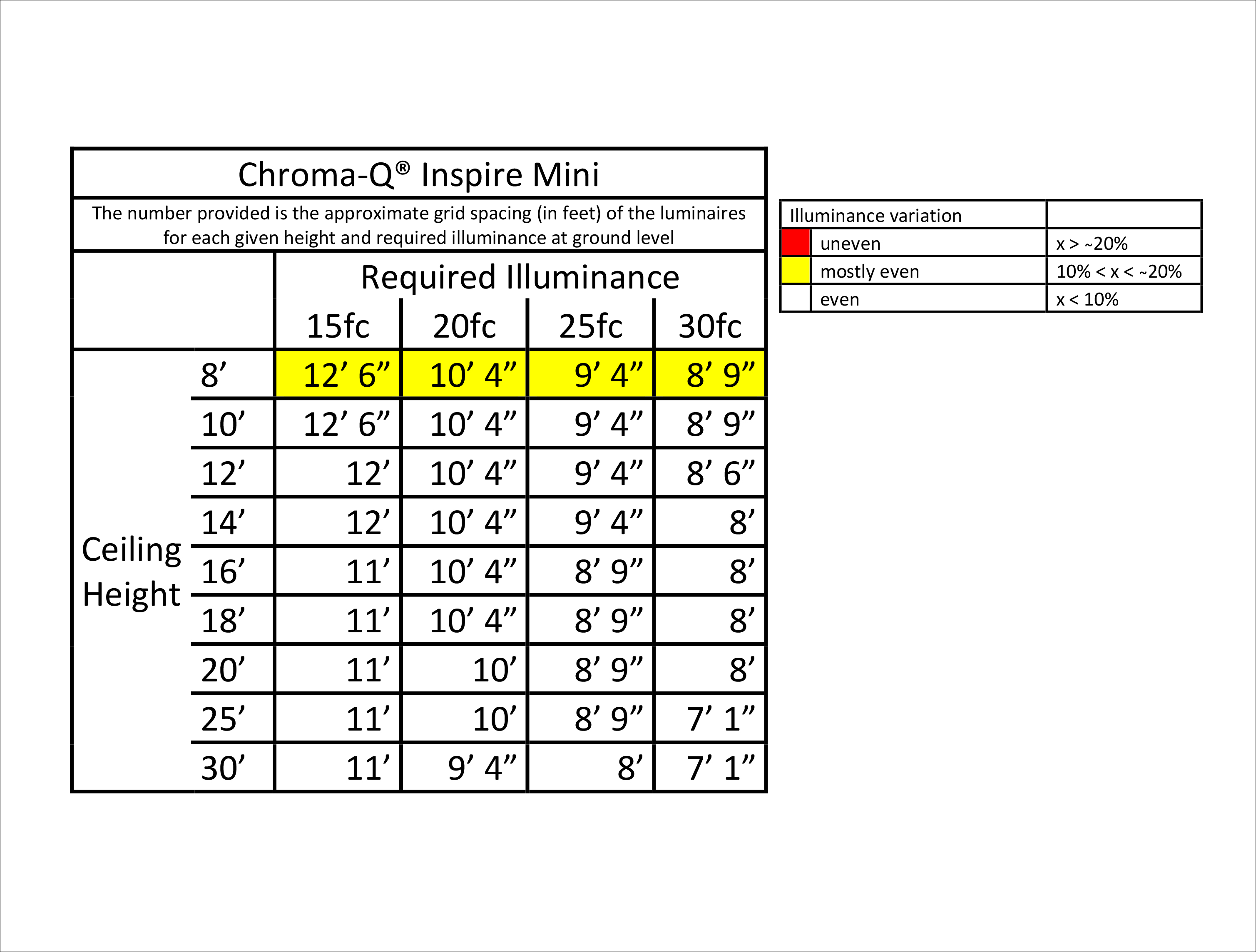 Inspire Mini™