News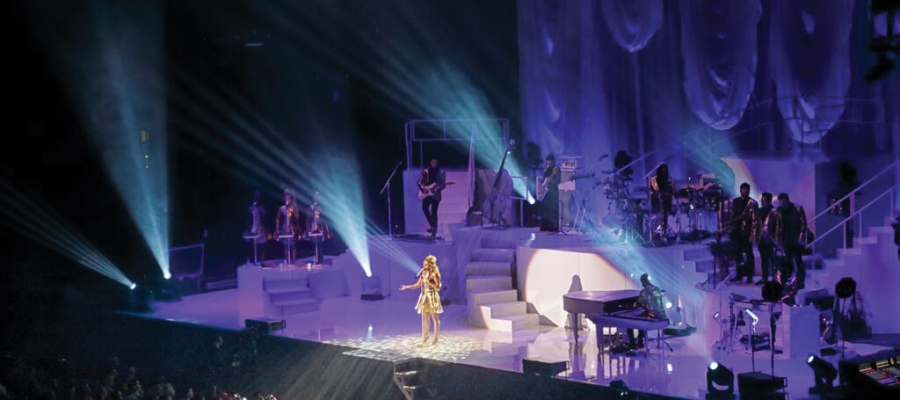 Chroma-Q Color Force 72 premium performance LED battens are adding colourful cyclorama lighting to an all-white, high gloss set and backdrop for British singer Paloma Faith's current UK tour.
Faith's 2015 live shows are in support of her third album, A Perfect Contradiction, which has become her most successful to date.

Set designer Joshua Grace worked with lighting designer Tony Austin, to create a 'Motown, disco and 80s aesthetic stage with a touch of 1930s glamour'. Nite Design's Phil White was lighting director and programmer for the tour, working alongside Tony Austin.
"The concept for the tour was an all-white set, and the Color Force 72s were used to up-light the white cyc backdrop," explains Phil. "Tony had already used Chroma-Q lighting products on previous Paloma Faith shows, and was looking for a batten with a powerful output and a great palette of attainable colours for this latest tour."
Featuring a radically increased RGBA colour-mixing palette, the Chroma-Q® Color Force range of creative lighting tools provides outstanding colour blend across the spectrum - for equally impressive bold saturates, subtle pastels and a complete range of whites from 1,000K to 10,000K.

In addition, the Color Force 72™ inch batten can light up to a 26ft drop cyc, making it ideal as a single fixture cyc lighting solution for the tour. The result is a rich yet subtle lighting design worthy of a performer who is known for her interest in fashion and art.

Adam Stevenson of production hire company, Entec Sound and Light, supplied eight Color Force battens to Tony Austin for the tour.
He comments: "The Color Force 72 batten was chosen due to specific requirements for the tour from Tony. Light output was very important, as the battens are used to light the cyc on an Arena-sized stage."
"The Paloma Faith tour continues through the summer with the Color Force 72s, and we have a busy autumn of touring lined up with them afterwards. We may well invest in more products from the Color Force range, to meet our customers' needs - possibly the 48 inch batten version, to add alongside our 72 inventory for even more versatility."
Entec purchased the Color Force fixtures from Chroma-Q UK dealer, A.C. Entertainment Technologies.

Other recent concert tours featuring stage lighting by the Color Force LED range include The Tragically Hip and Mark Knopfler, as well as numerous theatrical show productions.

The Chroma-Q range of premium performance solutions is designed and built to exacting standards in North America, and has been adopted by many leading designers and specifiers for some of today's most demanding and prestigious lighting applications. As a result of this, the brand has received awards from several industry associations.

Get your demonstration of the Chroma-Q LED range at the following upcoming international tradeshows:

IBC - Amsterdam, Holland, 11th - 15th September, Hall 11 - Stand 11.A70,
(Dealer, A.C. Entertainment Technologies)

PRO - Birmingham, UK, 12th - 14th September, Stand G47,
(Dealer, A.C. Entertainment Technologies)

PLASA 2015 - London, UK, 4th - 6th October,
(Dealer, A.C. Entertainment Technologies)

LDI 2015 - North Halls, Las Vegas Convention Centre, USA, 23rd - 25th October,
Booth #1937
(Distributor, A.C. Lighting Inc.)

Alternatively, to arrange a demo or for details of the nearest Chroma-Q open house events, contact:

(UK Dealer)
A.C. Entertainment Technologies Ltd.
Tel: +44 (0)1494 446000
sales@ac-et.com

(North American Master Distributor)
A.C. Lighting Inc.
Tel: +1 416 255 9494
northamerica@aclighting.com

Or for more information and to find your nearest reseller, visit www.chroma-q.com.

We're now social. Follow us on Facebook - www.facebook.com/chromaq.lighting - for the latest Chroma-Q breaking news, user application stories, competitions & other fun stuff.
---
Chroma-Q and all associated product names are recognized trademarks, for more information visit www.chroma-q.com/trademarks. The rights and ownership of all trademarks are recognized. Whilst every effort has been made to ensure that the information is correct, Chroma-Q accepts no liability for errors or omissions. Technical specifications and data are provided for guidance only. Because we constantly aim to improve our products, we reserve the right to amend or alter at any time and without prior notice, the specifications of any product. E&OE.
Recent News