News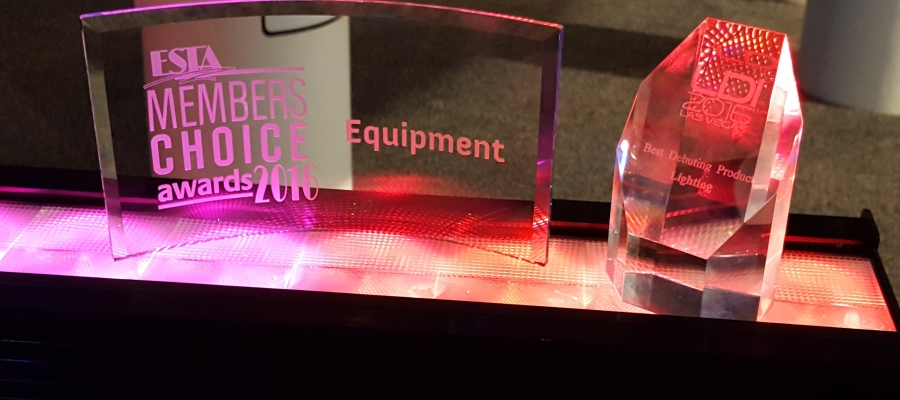 Chroma-Q's ground breaking Color Force II has won two prestigious awards at the Live Design International (LDI) Show in Las Vegas. The fixture was recognised as the Best Debuting Conventional Lighting Fixture by LDI and took the Members Product Choice Equipment Award awarded by ESTA, the Entertainment and Services Technology Association.
The LDI judges said "The Chroma-Q® Color Force 2 showed a stunning face and elegant colour mixing, both as a smooth surface wash and as a clean visual look."
John Fuller, the Global Brand Manager for Chroma-Q, in accepting the awards said "We're honoured by the recognition from the industry. This is a great endorsement of all the hard work and innovative effort that our technical team have put into developing the Color Force II and it reinforces all the positive feedback we've had from designers who've seen the product on both sides of the Atlantic."
The Color Force II range of RGBA LED battens had it's European launch at September's PLASA Show in London, where it was highly commended in the PLASA Innovation Awards. The incredibly powerful 0.3 meter / 12 inch, 1.2 meter / 48 inch, and 1.8 meter / 72 inch fixtures can easily wash a 12 meter / 39 foot cyc. They build on Chroma-Q's original Color Force™ battens and feature extremely smooth, uniform output; homogenised colour mixing with no skittles and theatrical grade dimming all using Chroma-Q's award-winning LED technology.
The first volume deliveries of fixtures for Europe will arrive shortly at Chroma-Q's exclusive distributor, A.C. Entertainment Technologies. AC-ET has already received orders following demonstrations of the first products. Phill Capstick, AC-ET's Managing Director, who was at LDI, said "Everyone I've shown Color Force II has been very impressed – we've already seen a lot of interest in the UK and we're keen to find partners and dealers to take Color Force II and other Chroma-Q products to continental European countries and other International territories outside the UK and North America."
In North America Chroma-Q products are distributed by:
A.C. Lighting Inc.
Tel: +1 416 255 9494
northamerica@aclighting.com
Outside of North America Chroma-Q products are distributed by:
A.C. Entertainment Technologies Ltd.
Tel: +44 (0)1494 446000
international.sales@ac-et.com
Or for more information, visit www.chroma-q.com
We're now social. Follow us on Facebook - www.facebook.com/chromaq.lighting - for the latest Chroma-Q breaking news, user application stories, competitions & other fun stuff.
---
Chroma-Q and all associated product names are recognized trademarks, for more information visit www.chroma-q.com/trademarks. The rights and ownership of all trademarks are recognized. Whilst every effort has been made to ensure that the information is correct, Chroma-Q accepts no liability for errors or omissions. Technical specifications and data are provided for guidance only. Because we constantly aim to improve our products, we reserve the right to amend or alter at any time and without prior notice, the specifications of any product. E&OE.
Recent News