News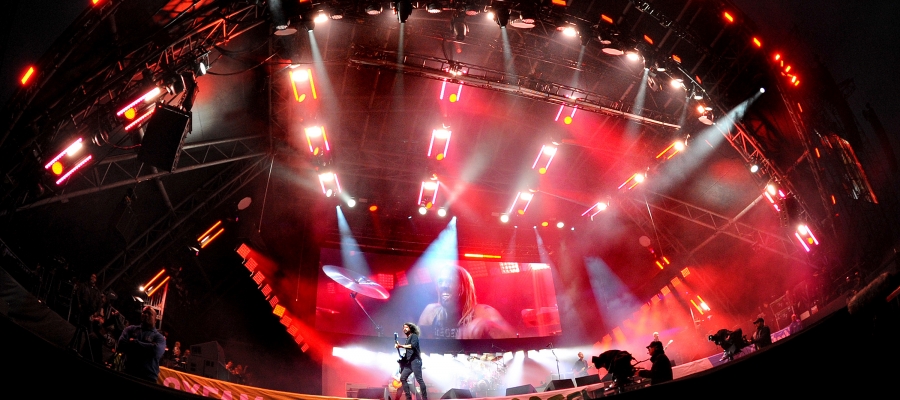 UK - Nearly fifty of the multi award-winning Chroma-Q Color Force II 48 luminaire were a central feature of the Pyramid Stage lighting rig at this year's Glastonbury Festival, providing powerful coloured illumination and eye candy during both daytime and evening performances from high-profile artists including Foo Fighters, Ed Sheeran, Katy Perry, Craig David, Chic, Barry Gibb, The National, First Aid Kit and many more.
Mark Cunniffe, lighting designer for Sunday night headliner, Ed Sheeran was impressed by the output of the fixture, commenting, "Loved the Color Force IIs. They worked really well, even in a daylight application."
Kirk J Miller, lighting director for Katy Perry's early evening, full daylight performance commented, "I've used the Chroma-Q Color Force IIs on a number of TV productions and I absolutely love them. They're bright, well lensed, and put out some great colour. Here, even in full daylight, they make a huge dent, glad to see them in the rig."
The renowned music festival attracts much attention every year from the world's media and provides a global showcase for the artists. Centre-stage are performances on the Festival's iconic, premier Pyramid Stage.
With so much expectation, only the highest production values will do on the Pyramid Stage. Andy "Fraggle" Porter, the stage's head of lighting, and the festival's premier rental supplier, Neg Earth Lights felt Chroma-Q® fixtures would be ideal and flew the Color Force II 48™ 1.2m RGBA colour-changing LED battens above artists on the stage.
From as early on as during Friday afternoon's performances, the powerful Color Force II battens were providing the colour needed to lift great daytime shows by artists such as First Aid Kit. The band's lighting designer, Timo Kauristo commented, "Of course normally they would be used as cyc lighting, but they make great eye candy when seen by the audience."
The Color Force II luminaires were even more impressive during the early evening and final headline performances, providing eye candy and stage colour for much anticipated shows by international artists such as Foo Fighters, Katy Perry and massive home-grown star, Ed Sheeran.
Michael Brown, lighting designer for The National added the Color Force II fixtures to his show just before the performance, but then used them for much of the high energy set in a wide variety of strong primary as well as pastel colours. Commenting after the show, Michael said "I have used the original Color Force™ fixtures, but this is the first time I have used the Color Force IIs. I have to say they were much brighter than I thought they would be."
Six of the award-winning Chroma-Q Space Force™ soft lights also formed an essential part of the rig, providing TV key lighting during the performances so cameramen could get the shots they needed for performances, many of which were available to stream live online and recorded for TV broadcast live or later on.
Designed to deliver a premium performance, the Chroma-Q Color Force II and Space Force LED solutions offer formidable output, superior homogenised optics and theatrical grade dimming.
See the Chroma-Q range at the PLASA 2017 show, or visit www.chroma-q.com for a list of all upcoming international shows.
Alternatively, to arrange your personal demonstration, contact:
(International Sales Enquiries)
A.C. Entertainment Technologies Ltd.
Tel: +44 (0)1494 446000
international.sales@ac-et.com
(North American Sales Enquiries)
A.C. Lighting Inc.
Tel: +1 416 255 9494
northamerica@aclighting.com
Or for more information about Chroma-Q, visit www.chroma-q.com or www.facebook.com/chromaq.lighting
---
Color Force II patents pending.
Chroma-Q and all associated product names are recognized trademarks, for more information visit www.chroma-q.com/trademarks. The rights and ownership of all trademarks are recognized. Whilst every effort has been made to ensure that the information is correct, Chroma-Q accepts no liability for errors or omissions. Technical specifications and data are provided for guidance only. Because we constantly aim to improve our products, we reserve the right to amend or alter at any time and without prior notice, the specifications of any product. E&OE.
Recent News