News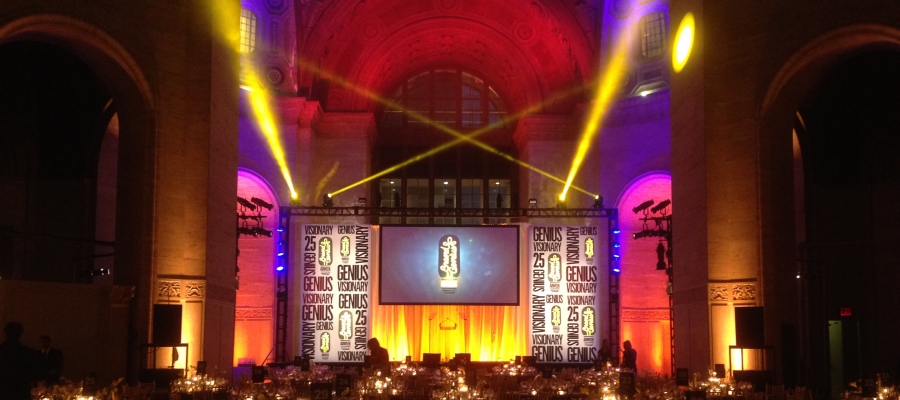 Veteran lighting designer, Rob Strohmeier selected Chroma-Q Color Force 12 LED fixtures to uplight architecture providing the background canvas look of his design for two related CLIO events - with the fixtures supplied by 4Wall New York.
Tasked with lighting events over two nights on a limited budget, Rob turned to 4Wall for the equipment needed for the 2014 CLIO Genius Visionary Awards and the CLIO Awards after party the following night.
"The Two events were different, the first night (the CLIO Genius Awards) was a sit down dinner with awards and speeches on stage, and the second night was the after party featuring a dance floor and three bands on stage," said Rob.
The venue for both events, Cipriani's 25 Broadway, presented a separate set of challenges despite providing immense beauty. Located in lower Manhattan, the great hall features soaring marble columns and a 65 ft. high ceiling, along with inlaid floors and murals. One thing not included at 25 Broadway: rigging points.
"Everything had to be ground supported," said Rob, "The rig consisted of one 38' wide x 20' high truss goal post over the stage and two 15' tall truss towers out front."
The Chroma-Q® Color Force 12™ fixtures were ideal for using as uplights on the hall's grand architectural features due to their massive output of 2,400 lumens, which easily washes up to 26 ft. with a powerful colour spectrum ranging from deep cold blue to red hot lava looks. The unit also features extremely smooth dimming, and at only 1 ft. long, is ideal for floor, wall or truss mounting.
Adorning the stage itself were a variety of fixtures from brands including ETC, Martin, Solaris and Clay Paky. After two nights of successful events, Rob praised 4Wall New York for their efforts in providing equipment for the weekend.
"The service was terrific from prep to show. 4Wall is an old school service oriented company with brand new equipment and the latest toys."
The Chroma-Q range of premium performance lighting solutions is designed and built to exacting standards in North America, and has been adopted by many leading designers and specifiers for some of today's most demanding and prestigious lighting applications - including opera, theatre, TV, venues, touring, events, or other sectors. As a result of this, the brand has received awards from several industry associations.
For more information and to find your nearest reseller, visit www.chroma-q.com
We're now social. Follow us on Facebook - www.facebook.com/chromaq.lighting - for the latest Chroma-Q breaking news, user application stories, competitions & other fun stuff.
---
Chroma-Q and all associated product names are recognized trademarks, for more information visit www.chroma-q.com/trademarks. The rights and ownership of all trademarks are recognized. Whilst every effort has been made to ensure that the information is correct, Chroma-Q accepts no liability for errors or omissions. Technical specifications and data are provided for guidance only. Because we constantly aim to improve our products, we reserve the right to amend or alter at any time and without prior notice, the specifications of any product. E&OE.
Recent News