News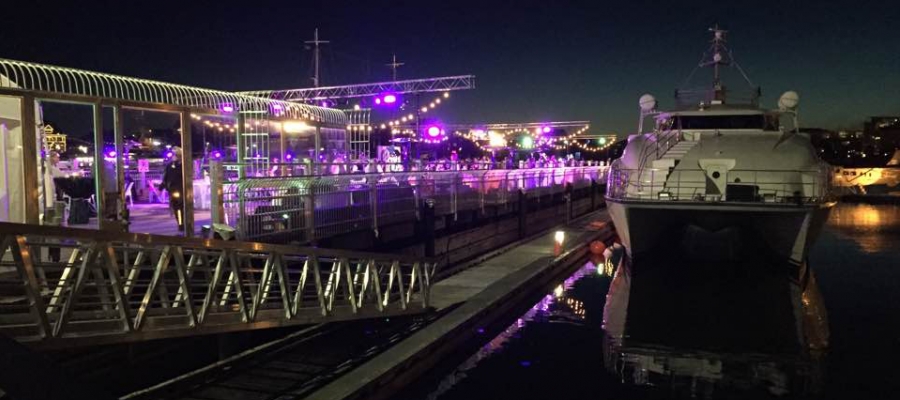 Victoria, capital of British Columbia, is well known for its scenery. Surrounded by the sea, a network of bays, coves and beaches, it is only natural that when seeking the perfect atmosphere to entertain 200 top producing realtors from Dallas, Texas, the award winning team of event planners, Macgillivray and Associates, turned to B.C. based Croy & Company Stage Lighting to illuminate the night.
The event known as Party on the Pier took place on Victoria's scenic Inner Harbour, which is dubbed one of the most beautiful harbours in the world.
Croy & Company was tasked with lighting the Gala Dinner, which took place following a special awards ceremony.
"As with any such outdoor event you are subject to weather concerns, particularly rain and wind," said Paul Croy, Owner of Croy & Company Stage Lighting. "Two hundred guests were scheduled to arrive for dinner at 6:00 PM, so I started my crew on laying out power and rigging right at 9:00 AM sharp. It was a bit of a gamble, but the weather held up."
With regard to design challenges, there were a few.
"The biggest design challenge we faced was lighting such a large area with limited power and no rigging points. In this regard, the many Chroma-Q® LED fixture options provided the perfect solution for this situation."
Chroma-Q's award-winning entertainment LED lighting products have been setting new standards of performance for a wide range of leading lighting designers, specifiers, rental and production companies, venues, shows and events worldwide. From creative and white LED ranges to accessories and control devices, Chroma-Q covers the gamut.
"In the design I used a total of 50 Chroma-Q LED fixtures," continued Paul. "We also rigged Chroma-Q compact LED fixtures (to be used as side lighting) to a railing that ran both sides the 218' length of the pier. My top lighting positions were set using 200' of Prolyte H40R for long spreads and H30D truss at a height of 12'."
Spanning nearly three decades, the Prolyte Group has grown to become one of the largest manufacturers of aluminium trussing, staging and structural solutions.
Equipped with the CCS6 conical coupling system, the H30D and H40R trussing systems are fast and easy to assemble. Both systems can be found in rental fleets all over the globe, where their optimal strength and flexible application possibilities make it well loved and much used.
"For a general wash, I used 13 Chroma-Q Color Force™ 12's with cyc lens as well as 14 Chroma-Q Color One 100s™ and 12 ETC Source Four 70 degree fixtures for specials," said Paul.
Paul didn't stop there. When it came to lighting the stage, he chose Chroma-Q studio Force V™ 12 LED fixtures and Chroma-Q Color One 100Xs™.
"The entire stage lighting was done with only two Chroma-Q Studio V LED fixtures, plus 2 Chroma-Q One 100 X fixtures used as side lighting," said Paul. "The Chroma-Q LED fixtures allowed me to adjust the design as needed, while the conventional fixtures added some texture. We also used over 300 feet of feet of old style string lighting for effect."
There's no doubt, with the chosen products and a great team of lighting professionals and event planners, that the event was a complete success.
Chroma-Q fixtures and Prolyte trussing systems were supplied to Croy by North American Distributor A.C. Lighting Inc.
"It was a beautiful night," said Paul. "The client was extremely happy."
For more information about Croy & Company Stage Lighting visit: http://croycolighting.com/
To schedule a demonstration of the products mentioned or any other from our wide selection, visit: https://www.aclighting.com/schedule-a-demo/
To arrange a demo or for details of the nearest Chroma-Q open house events, contact:
(North American Sales Enquiries)
A.C. Lighting Inc.
www.aclighting.com
Tel: +1 416 255 9494
northamerica@aclighting.com
(International Sales Enquiries)
A.C. Entertainment Technologies Ltd.
www.ac-et.com
Tel: +44 (0)1494 446000
international.sales@ac-et.com
Or for more information about Chroma-Q, visit www.chroma-q.com or www.facebook.com/chromaq.lighting
---
Chroma-Q and all associated product names are recognized trademarks, for more information visit www.chroma-q.com/trademarks. The rights and ownership of all trademarks are recognized. Whilst every effort has been made to ensure that the information is correct, Chroma-Q accepts no liability for errors or omissions. Technical specifications and data are provided for guidance only. Because we constantly aim to improve our products, we reserve the right to amend or alter at any time and without prior notice, the specifications of any product. E&OE.
Recent News