News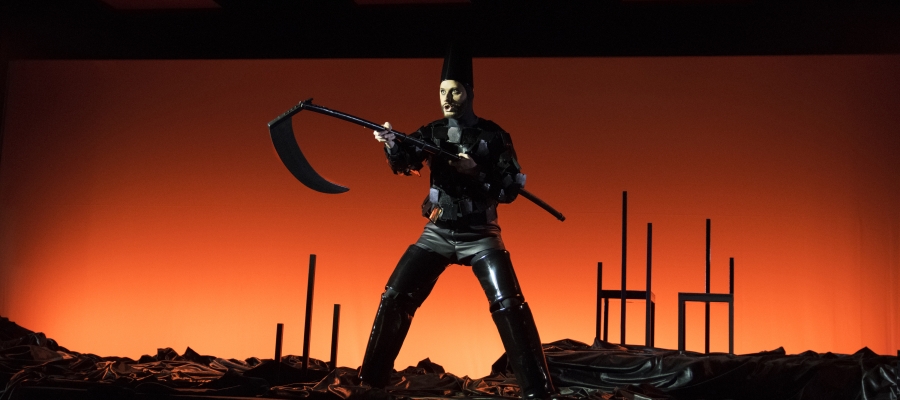 Sweden - The lighting crew of the prestigious Malmö Opera venue were so impressed by the improved range of colours, brightness, and the even light of the new Chroma-Q Color Force II, that they purchased fixtures for a new production on their Verkstan Stage, home of the Opera house's experimental division, Operaverkstan.
The lights were used extensively during the recently completed, month long run of "The Disobedience of Death", which was originally written in a Second World War concentration camp, by Austrian composer Viktor Ullman, and Czech poet Peter Klein. The writers died after being transferred to Auschwitz in 1944, so the work's premiere was not presented until 1975, by the Dutch National Opera, at the Theatre Bellevue in Amsterdam.
The Malmö Opera building is the home of the Malmö Opera company and houses one of the largest auditoriums of its type in Scandinavia, as well as the smaller studio stage.
"We needed a relatively small but nonetheless bright fitting, for lighting a BP-screen, in order to create the effects we were looking for. The Color Force II's™ brightness, quality and range of light made it an excellent choice," said Daniel Bexell, the Opera Company's head of lighting.
The fixtures were supplied by Chroma-Q® master distributor, A.C. Entertainment Technologies Ltd. (AC-ET), after they had run a custom demonstration in Malmö. AC-ET have also supplied DMX cables through their in house Tourflex® Cabling division. Johan Bertilsson, AC-ET's Swedish Sales Representative said, "We're delighted to work with the Malmö Opera Company. This is one of the first Swedish applications of the new Color Force II and the feedback reinforces the developments and improvements made for operatic and theatrical productions."
For more information about Chroma-Q products, contact:
+44 (0)1494 446000
sales@chroma-q.com
www.chroma-q.com
www.facebook.com/chromaq.lighting
Color Force II patents pending.
---
Chroma-Q and all associated product names are recognized trademarks, for more information visit www.chroma-q.com/trademarks. The rights and ownership of all trademarks are recognized. Whilst every effort has been made to ensure that the information is correct, Chroma-Q accepts no liability for errors or omissions. Technical specifications and data are provided for guidance only. Because we constantly aim to improve our products, we reserve the right to amend or alter at any time and without prior notice, the specifications of any product. E&OE.
Recent News