News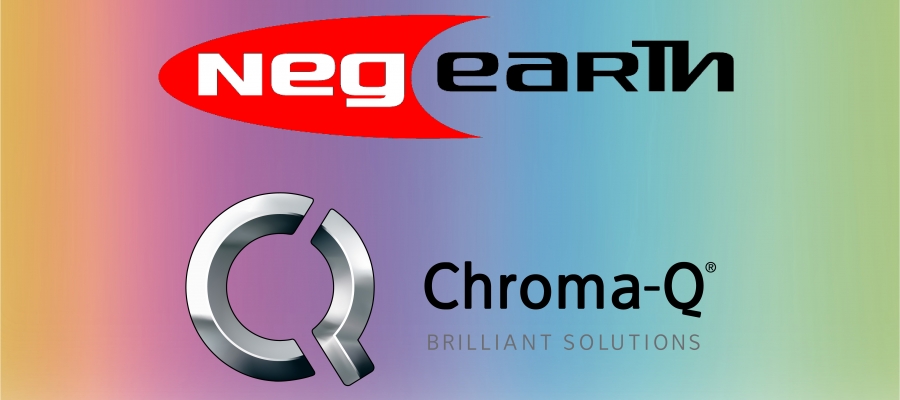 UK - Leading lighting rental production company, Neg Earth Lights have added the multi award-winning Chroma-Q Color Force II LED cyc, wash & effects light to their stockholding - supplying the fixture for a number of high-profile concert tours, live music events and TV shows.
One of the leading London-based entertainment lighting hire companies in the live events industry, Neg Earth pride themselves on being at the forefront of lighting technology and innovation - offering clients state of the art solutions to meet their requirements, matched by a level of technical expertise which is second to none.
When multi award-winning lighting designer, Tim Routledge approached Neg Earth looking for a high performance LED washlight for a particular project, he did some tests with the Chroma-Q® Color Force II™ and was very impressed.
In recent months, Tim has utilised the fixture on a variety of projects. These include using nearly 60 Color Force II to powerfully illuminate the entire room as a single surface for a show by a leading British pop artist inside one of The Tanks - huge concrete, circular underground rooms at the Tate Modern measuring over 30 metres across and 7 metres high.
In addition, Tim has utilised nearly 40 fixtures to provide different floor lighting packages for performers during 6 shows in the latest series of The X Factor.
He commented: "The Color Force II are my new 'go to' LED cyc and wash light. They are super bright, the colours are really great, and the evenness of the cyc lighting is superb. I've previously used the original Color Force™ many times, but the new fixture takes this type of lighting to another level."
Neg Earth have also supplied their stock of Color Force II units for a number of other recent and upcoming high-profile entertainment projects.
They originally trialled Color Force II when, as the premier rental supplier for last year's Glastonbury Festival, Neg Earth made the fixture central to their lighting package for the iconic Pyramid Stage. Nearly 50 units provided powerful coloured illumination and eye candy during performances from high-profile artists including Foo Fighters, Ed Sheeran and Katy Perry, amongst many others.
Andy 'Fraggle' Porter, the stage's Head of Lighting, commented: "The battens looked great and went down well with the LDs. They really contributed to the overall look."
Neg Earth's Dave Ridgway commented: "The Color Force II is proving to be an extremely useful and versatile creative tool for our clients. It's a great deal brighter than the original Color Force fixture and has been very well received. The homogenised LED cells improve the output and look of the fixture over its predecessor. They look great on camera and from a touring point of view they are robust enough to handle the rigours of the road."
The Color Force II fixtures were supplied to Neg Earth by Chroma-Q dealer, A.C. Entertainment Technologies Ltd (AC-ET).
Designed to deliver a premium performance for theatrical & rock 'n' roll events, film & television productions, and corporate & architectural applications, the versatile Chroma-Q Color Force II LED cyc, wash & effects light delivers 50% more output than its predecessor and superior colour blending. Other premium features include superior homogenised RGBA optics producing even higher quality saturates and pastels, and a purer white – all from a single source - and theatrical grade dimming.
See highlights from the Chroma-Q range at ProLight & Sound 2018, Messe Frankfurt, Germany, 10th - 13th April 2018, on their stand (H50) in hall 3.0.
Alternatively, to arrange your personal demonstration, contact:
(International Sales Enquiries)
A.C. Entertainment Technologies Ltd.
www.ac-et.com
Tel: +44 (0)1494 446000
international.sales@ac-et.com
(North American Sales Enquiries)
A.C. Lighting Inc.
www.aclighting.com
Tel: +1 416 255 9494
northamerica@aclighting.com
Or for more information about Chroma-Q, visit www.chroma-q.com or www.facebook.com/chromaq.lighting
Color Force II patents pending.
---
Chroma-Q and all associated product names are recognized trademarks, for more information visit www.chroma-q.com/trademarks. The rights and ownership of all trademarks are recognized. Whilst every effort has been made to ensure that the information is correct, Chroma-Q accepts no liability for errors or omissions. Technical specifications and data are provided for guidance only. Because we constantly aim to improve our products, we reserve the right to amend or alter at any time and without prior notice, the specifications of any product. E&OE.
Recent News