News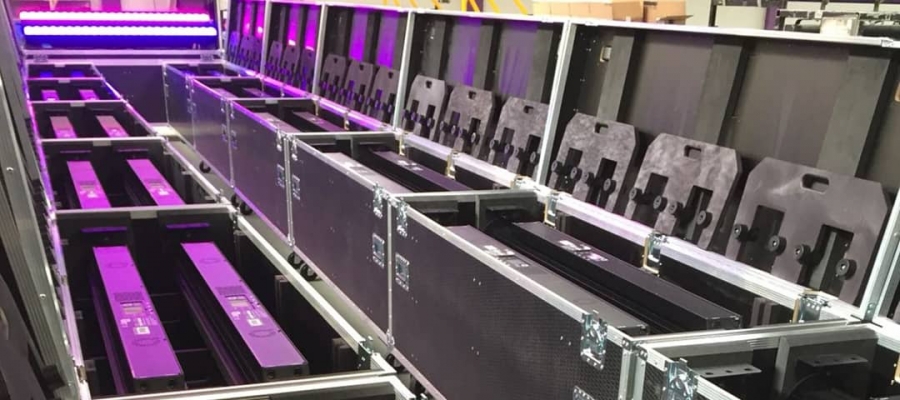 UK - Following its acquisition of Blinding Light, a corporate and event lighting specialist, TSL Lighting have invested in a large number of Chroma-Q® LED fixtures and Luminex DMX hubs, all of which have been supplied by the brands' UK & Eire dealer, A.C. Entertainment Technologies Ltd. (AC-ET).
A large quantity of Chroma-Q Color Force II™ 72 and Chroma-Q Space Force™ LED fixtures have been added to TSL's extensive rental inventory. These two award-winning products extend their capability to respond to increasingly demanding customer requirements, with fixtures that excel in the corporate, live performance and events markets.
AC-ET also supplied TSL with 50 Luminex LumiSplit 2.10 DMX hubs. The LumiSplit is a versatile 2:10 rack mounted splitter with advanced RDM management, LTP & HTP merging, A/B backup, which is all housed in a robust tour grade shell, making it extremely flexible and perfectly suited to rental and production.
Sam Tamplin, Managing Director of TSL Lighting commented: "With the recent acquisition of Blinding Light, we needed to make sure we had the right inventory to meet the needs of our customers." He concluded: "The addition of these industry leading fixtures and infrastructure options, will ensure we continue to provide our clients with what we consider to be the best quality equipment available."
Contact the company now to discuss how AC-ET can help you achieve your aspirations, on +44 (0)1494 446000 / sales@ac-et.com, or visit www.ac-et.com.
Keep up to date with the latest AC-ET news via their social network pages:
www.instagram.com/ac_ent_technologies/
www.facebook.com/acentertainmenttechnologies
---
Chroma-Q and all associated product names are recognized trademarks, for more information visit www.chroma-q.com/trademarks. The rights and ownership of all trademarks are recognized. Whilst every effort has been made to ensure that the information is correct, Chroma-Q accepts no liability for errors or omissions. Technical specifications and data are provided for guidance only. Because we constantly aim to improve our products, we reserve the right to amend or alter at any time and without prior notice, the specifications of any product. E&OE.
Recent News